OCZ announce ruggedized flash drives
ATV / ATV Turbo series.
Published Thu, Sep 6 2007 7:52 PM CDT
|
Updated Tue, Nov 3 2020 12:39 PM CST
In similar style to Corsair's Survivor series of flash drives, OCZ have announced today some very rugged well-built offerings of their own in the ATV and ATV Turbo series.
These flash drives will cop a real beating as they are both shock and water-proof, the Turbo series has extremely quick memory chips in it which allow for read rates of up to 35MB/sec and write rates of 30MB/sec, of course they are Windows ReadyBoost ready as well.
The external casing features a durable and colorful rubber 'tread' pattern which will keep the internals very safe even when submerged in water.
The ATV and ATV Turbo flash drives come in sizes ranging from 2 to 8GB.
For more information have a read of the
official announcement here
or head straight over to the
product page
folks.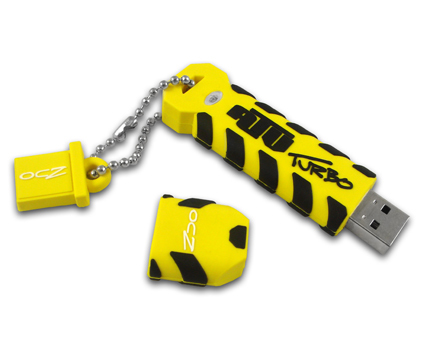 Sunnyvale, CA-September 5, 2007-OCZ Technology Group, a worldwide leader in innovative, ultra-high performance and high reliability memory, today announced the toughest and fastest additions to its award-winning lineup of flash drives. The all-new ATV and ATV Turbo are ruggedized storage solutions for professionals, students, and gamers on the go, and are built to handle whatever rough terrain you encounter. Developed to compete with the fastest flash drives in the world, the ATV Turbo features unbelievable speed for today's busy lifestyles.