MSI X38 Diamond displayed in Taipei
Intel X38 boards about ready!

Published Wed, Aug 29 2007 4:51 AM CDT
|
Updated Tue, Nov 3 2020 12:39 PM CST
Just recently we posted about the MSI K9A2 Platinum motherboard based on the AMD RD790 chipset and now it is time to focus on the X38 Diamond which we also saw at the MSI HQ here in Taiwan today.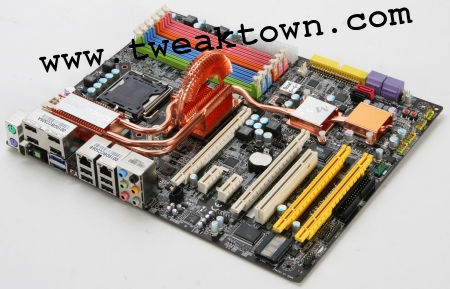 The MSI marketing people just sent through a shot of the almost final revision of their X38 Diamond with the new full cooper heat pipe cooling solution (the shipping version will be striped of DDR2 slots and will be DDR3 only). The X38 chipset does get quite hot and as a result, a rather exotic cooler is required to keep things in order but it is not quite as crazy as the previous types we have seen from MSI but almost.
This heat pipe cools the PWM area, X38 Northbridge, ICH9R Southbridge and the final chip at the very bottom (which is used to control PCI Express lane sharing between the four PEG x16 slots). The top two slots will run at x16 electronically while the bottom two will operate at x4 each if the top two are used in dual graphics mode (note we didn't just say Crossfire as X38 like its older brother the 975X can do SLI just not officially).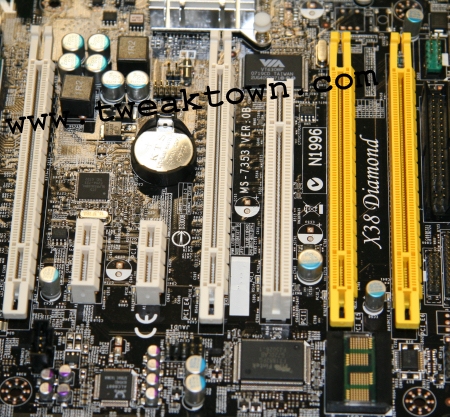 Some new features to take notice of on the X38 Diamond is the brown CMOS reset button on the I/O panel along with strange looking device to the left of the bottom two PEG slots - that is a digital LED which outputs debug POST codes for easy error detecting. There are also handy reset and power off buttons on the board itself.
And to provide a better and more stable flow of power, MSI has implemented what they call a better design by introducing a "dual channel" PWM - the board has four phases but they are split in two which results in a more even flow of power which generates less heat, according to the gentlemen we spoke with.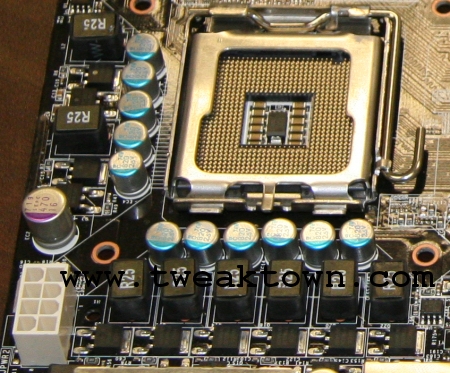 There is a grand total of twelve USB 2.0 ports with two being provided via PCI slot extension bracket and there are also a total of eight SATA 2.0 ports onboard (two of which are eSATA on the I/O panel). The red and black SATA ports are powered by a Silicon Image chip (and support RAID 0 and 1) since the ICH9R only supports six natively.
MSI is still unsure of availability and pricing but we expect it to start shipping towards the end of September and we cannot wait to get our hands on it for some testing!