MSI shows K9A2 Platinum (AMD RD790) mobo
We saw it first here in Taipei.

Published Wed, Aug 29 2007 3:45 AM CDT
|
Updated Tue, Nov 3 2020 12:39 PM CST
Today we got the chance to visit the friendly folks at MSI and they showed us some of their upcoming products.
We got a chance to see their working Intel X38 Diamond motherboard but since it is not quite ready yet and waiting to be suited up with a new heat pipe cooling solution, we will hold off on showing you the board we saw today.
The board was a combo version with DDR2 and DDR3 DIMM slots but MSI has decided to remove the DDR2 slots due to RAM compatibility and performance issues. MSI commented that they may produce a combo board based on the X38 at a later date but they are still unsure when and if they will even do it or not.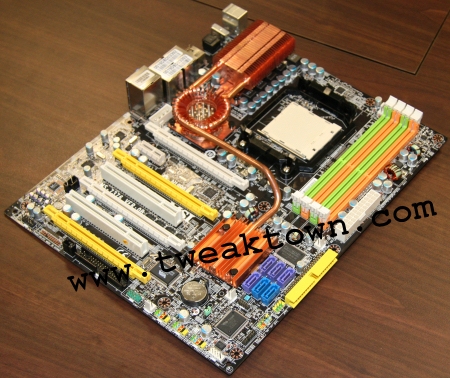 The star of this news post is their K9A2 Platinum motherboard based on AMD's upcoming RD790 chipset which will support among other things their new range of processors and PCI Express 2.0 graphics cards - whenever they become available.
The shots of the K9A2 Plat you will see today are of a board which is basically done, there will just be some minor adjustments to the silent operating heat pipe running from the Northbridge to Southbridge - it is sitting up a little too high right now and MSI intend on changing so it is sitting lower to the PCB.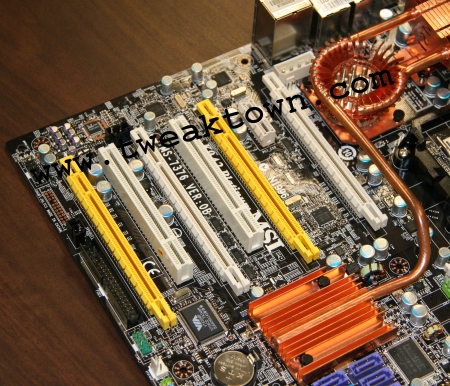 You will notice that the rollercoaster type heat pipe which we saw on MSI P35 boards has gone and been replaced with a more placid looking design which cools the PWM area, Northbridge and Southbridge via its copper material. There are a total of four PEG slots and when all are in use, they are at x8 but when only two are in use they run at x16 each.
We asked the need for so many PEG x16 slots and asked if it had anything to do with Quad Crossfire and were told that we will see three-way Crossfire first and Quad version later (we would assume next year). There are a total of six SATA 2.0 slots (four onboard and two eSATA on the I/O panel) from the SB600 Southbridge and an extra two are added through a Promise add-on controller (they are colored blue).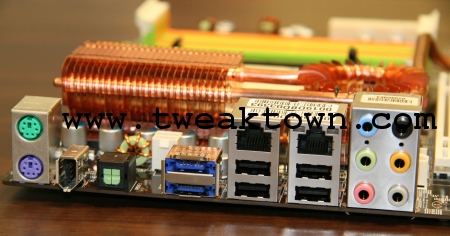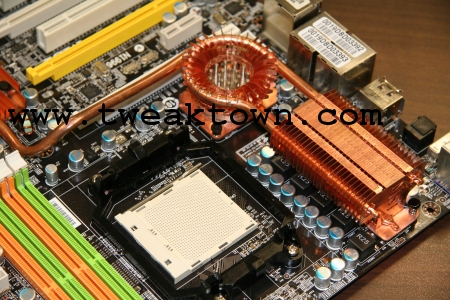 Release date and pricing was unable at time of publishing but we suspect the board will be ready and shipping late September or sometime in October.