Riders Republic: Jetpacks, snowboards and hovercraft fun in September
Ubisoft reveals more details about its crazy over-the-top Rider's Republic, which offers tons of different crazy sports action.

Published Sat, Jun 12 2021 2:45 PM CDT
|
Updated Sun, Jul 11 2021 11:58 AM CDT
Ubisoft's new Rider's Republic game is coming this September, and it looks rad as hell.
Rider's Republic looks like pure dumb fun. It has snowboarding straight out of 1080, complete with Tony Hawk-style grinding and trick-setting. You can create your own maps and modes and share them with the community. There's even crazy stunt racing sports like jetpack chaos that sees you flying through the Grand Canyon, as well as more slow and steady things like parachute gliding.
The mountain bike sports racing looks pretty chaotic, too. You'll be making death-defying leaps across huge gaps, scaling terrifying terrain, and zooming across tumultuous landscapes.
Rider's Republic is coming September 2, 2021.
ABOUT RIDERS REPUBLIC

Live out the rider's fantasy as you roam free in a huge, vibrant open world, always buzzing with other players around you. Immerse yourself in iconic American national parks including Bryce Canyon, Yosemite Valley, Mammoth Mountain... all mashed up for you to shred! Squad up with your friends and compete in a wide range of multiplayer modes: feel the rush of downhill races, dominate maps in team vs team competitions, or give it your best shot in epic mass PvP races with more than 50 other players.

Key Features:

JUMP INTO A MASS SOCIAL PLAYGROUND

From snowy mountains to arid canyons, ride through some of the most magnificent destinations on earth: the American National Parks. Bryce Canyon, Yosemite Valley, Sequoia Park, Zion, Canyonlands, Mammoth Mountain and Grand Teton have all been faithfully transposed and mashed up together to create the most unique and lively playground. Gather in a vibrant social hub and meet a wild community of fellow riders.

PLAY WITH OR AGAINST YOUR FRIENDS IN INSANE MULTIPLAYER MODES

Enjoy a full-fledge multiplayer experience with a wide variety of modes:

Competitive races and trick challenges: playable in PvP / Co-op / Solo

Mass Starts: frantic 50+ player races where nothing is off limits(1)

Community Jams: Wild 50+ player events which randomly pop up on the map(1)

Multiplayer arenas: 6x6 team PvP matchups

Online Cups: for the very best only, make your way up the leaderboard

MANAGE YOUR CAREER AND MAKE IT TO THE TOP OF THE LADDER

Create and shape your own rider through evolutive, progression-based gear and define every aspect of your avatar. Whether you want to be the best snowboarder alive or the fastest thing on two wheels, everything is possible. Make a name for yourself in a variety of sports, rise to the top of the leaderboard in career mode and sign with legendary sponsors from a wide range of outdoor action sports.

MAKE THE MOST OF NEXT GEN GAMEPLAY

Riders Republic will run at 60 FPS on next gen consoles and display more than 50 players simultaneously live on screen. With the game's very intuitive character and camera control combined with an innovative trick system, all players, casual and hardcore, will have the chance to experience untapped joy from the very beginning.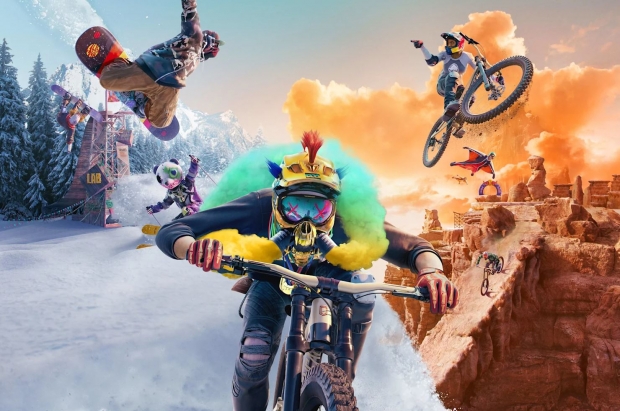 Related Tags