The new Evil Dead game looks hellishly fun, brings PvPvE chaos in 2021
The Evil Dead game pulls from Friday the 13th The Game's PVP while adding in some awesome PVE co-op, features iconic characters.

Published Sat, Jun 12 2021 1:41 PM CDT
|
Updated Sun, Jul 11 2021 10:31 AM CDT
Saber Interactive's new Evil Dead game looks like a blast, featuring PvP chaos similar to Friday the 13th: The Game with some PvE sprinkled in too.
"THIS... IS MY BOOMSTICK"
Gameplay for the new Evil Dead game finally got revealed during the Summer Game Fest, and it looks pretty good. Bruce Campbell stars in the game as Ash, and there's characters from the entire Evil Dead movie series--even Ash's sister Cheryl makes a return. The game has locations, characters, and enemies from all three movies and the Ash vs Evil Dead series on Starz. It's a pure celebration of one of the most hilarious and over-the-top horror franchises ever made.
It features third-person combat like Friday the 13th The Game, complete with a Halo 5 Warzone-esque gametype where players can work together to kill Deadites, gather resources, and progress through the level--and one player can also jump in as a Kandarian demon to slaughter the survivors. It looks like an online-driven live game so expect cosmetics and the like. Saber will leverage what it's learned with World War Z to power the new project.
The game looks campy, fun, and downright goretastic. It's due out sometime in 2021 on PS4, Xbox One, Switch, PC, PlayStation 5 and Xbox Series X/S. Check below for more info: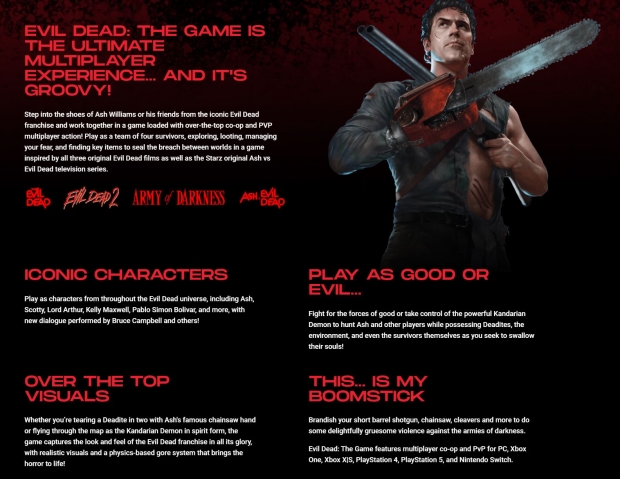 Featuring Bruce Campbell as the original boomstick-brandishing, chainsaw-wielding hero Ash Williams, this video is your first major look at the co-op and PvP multiplayer action game, coming later this year to PC, PlayStation®5, PlayStation®4, Xbox Series X|S, Xbox One, and Nintendo Switch.

You'll also get a glimpse of new surprises like Cheryl Williams and Henry the Red as playable characters, plus Ash's Delta (and yes, you can drive it).

Inspired by the iconic horror, humor, and action of the "Evil Dead" universe, Evil Dead: The Game brings the biggest characters together from the franchise in an over-the-top, gore-filled experience against the forces of darkness.

Work as a team of four survivors, including Ash, Kelly Maxwell, Pablo Simon Bolivar, Scotty, Lord Arthur and more, to fight Deadites, banish the vile Kandarian Demon. Or become the mighty Demon yourself, using your powers of possession to stop the good guys dead and swallow their souls!

Battle across memorable sights from the franchise, including the infamous Knowby cabin, brought to life with tons of terrifying visuals and all-new dialogue from Bruce Campbell. Discover more than 25 weapons, including Ash's Gauntlet, Boomstick, and chainsaw, and level up a variety of skill trees to grow even stronger and survive the night.
Related Tags