Far Cry 6: Everything we know so far
We catalog everything that's been confirmed about Far Cry 6 to date, including vehicles, guns, new RPG-level outfits, and more.

Published Sun, Jun 6 2021 10:35 AM CDT
|
Updated Sat, Jul 3 2021 7:21 PM CDT
Ubisoft's new Far Cry 6 takes us to the tropical isle of Yara that's riven by a harsh guerrilla revolution. Here's what you need to know about the new FPS.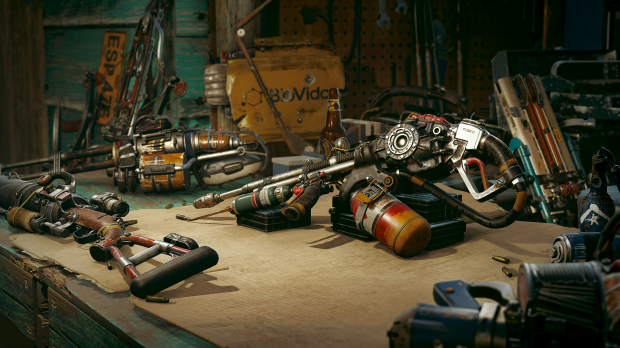 Far Cry 6 looks like an absolute blast and Ubisoft is clearly putting strong emphasis on fun gameplay this time around. While the game's themes are quite political and interesting, the mechanics combine smooth gunplay with innovative new enhancement systems to give players all kinds of different playstyle opportunities.
Below we've compiled everything that Ubisoft has announced about Far Cry 6 so far, including the new crazy Supremo backpacks, chaotic vehicles, stealth combat, and wide arsenal of hilarious-yet-effective makeshift weapons.
No Far Cry Arcade feature in the game

Open-world two-player co-op (tether system featured in Far Cry 5 and New Dawn)

Resetting outposts

Will have endgame content

No rarities with weapons or equippable gear

Runs at 4K 60FPS on PS5, Xbox Series X

Cross-gen release, free next-gen upgrade

Will have live services integration

Supports AMD raytracing, FidelitFX Contrast Adaptive Sharpening on PC

Skipping Steam, Epic Games Store, Microsoft Store, uPlay, and Stadia only

Fishing is back

Guerrilla camps with mini-games

Multiple towns to explore--imagine there's three Falls Ends from Far Cry 5 injected into the world, on top of having the capital city of Eperanza

Biggest map ever

The whole goal is to unite the people, unite the guerrillas and take over the capital city

Has authentic guerrilla-inspired pathways in the jungle straight out of Cuba's 1960s rebellion

Horses confirmed

Vehicles can be customized with tons of weapons

Lots of vehicles including jet skis, boats, airplanes, dune buggies, cars, tanks, etc.

Wingsuit is back

DualSense integration on PS5

No guns for hire

Will be optimized for last-gen consoles like PS4 and Xbox One

Jetpack backpack (Fuego) is a "burst that lets you traverse the world differently"

Multiple fangs for hire

Takedowns are back

Emphasis on stealth

New armor system adds perks and bonuses when equipped, e.g. added stealth or throwing weapons that never miss

Weapons have attachments and upgrades

Supremos backpacks are superweapons that destroy groups of enemies as well as vehicles, including jetpacks, flamethrower, and rocket-shooting backpack
Far Cry 6 releases October 7, 2021 on PlayStation 4, Xbox One, and PC. It's also coming to next-gen consoles, and anyone who buys a current-gen copy gets a next-gen version free of charge.
Check out the official website here, and check below for more information:
TRUST YOUR LEADER

Anton Castillo played by Giancarlo Esposito is promising to return the island nation of Yara back to its former prosperity while he grooms his son Diego to become the next El Presidente.

BEWARE THE DICTATOR

Anton's methods are extreme. To build the wealth of the nation for his son to inherit, he will sacrifice the freedom and lives of anyone who stands in his way.

GUERRILLAS THREATEN THE CAPITOL

Those who oppose Anton have a target on their backs. They are branded as Fake Yarans and forced into labor camps, where they are never heard from again.

GUERRILLAS STRUGGLE AGAINST MILITARY

With each passing day, Anton and Diego's power continues to grow, but the resistance remains divided and without unified leadership. The spark of revolution is in danger of being extinguished.

THE JEWEL OF THE CARIBBEAN

In its past life, Yara was a prosperous nation and a tropical paradise that attracted travelers from all over the world, excited to explore its lush jungles, pristine beaches, and sprawling capitol city.

A NATION STRANDED IN THE PAST

After revolution and decades of foreign economic sanctions and blockade, Yara has been frozen in time, forcing its people to find new ways to adapt.

In Far Cry 6, players are immersed in the adrenaline-filled, chaotic world of a modern-day guerrilla revolution. Welcome to Yara, a tropical paradise frozen in time. As dictator of Yara, Anton Castillo is intent on restoring his nation back to its former glory by any means, with his son, Diego, following in his bloody footsteps. Become a guerrilla fighter and burn their regime to the ground.

As Dani Rojas (playable as a female or male character), you will help stoke the fires of revolution through guerrilla warfare across the island of Yara, from verdant jungles to the urban streets of the capital city, Esperanza. You'll use a powerful array of weapons and vehicles, and build a network of allies to fight alongside you, including Fangs for Hire like Chorizo, the dangerously distracting wiener dog. As President Castillo prepares his son Diego, played by Anthony Gonzalez ("Coco"), to succeed him, you will do all you can to ensure his plans don't come to fruition.

Key Features

Join the revolution as Dani Rojas and liberate your nation from Anton Castillo's oppression.

Dive into a blockbuster experience and immerse yourself in the journey of a guerrilla revolutionary.

Explore the largest open world in Far Cry history, including the first ever sprawling urban city.

Discover new animal companions like Chorizo, the adorable wiener dog, to take down your enemies.

Unleash the firepower of specialized makeshift weapons and new backpacks to use against Anton's troops.

Ignite the Fight for Freedom -Dive into a blockbuster experience as Dani Rojas, a local Yaran defending their country from a tyrant's rule. Join the revolution to push back against the oppressive regime of dictator Anton Castillo and his teenage son Diego, brought to life by Hollywood stars Giancarlo Esposito (The Mandalorian, Breaking Bad) and Anthony Gonzalez (Coco).
Yara Torn Apart -For the first time in Far Cry, experience a sprawling capital city: Esperanza, the most expansive Far Cry playground to date. Take down Anton in the seat of his power by staying hidden or engaging Anton's army in an all-out firefight in the streets. From taking the reins of a horse to commandeering a tank, choose your favorite ride to fight against the regime or to just travel Yara in style.
Become a Guerrilla - Jump into the action and chaos of guerrilla combat at the heart of a revolution. Employ an arsenal of unique and surprising new weapons, vehicles, and animal companions in a fight against an unyielding military regime. No guerrilla should go it alone, so pair up with an all-new animal companion like Chorizo, the adorable wiener dog who's as cute as he is lethal.
Related Tags