Russia has war robots ready, will take out John Connor first probably
Russia developing AI-powered platforms, high-tech weapons including -- announces serial production of combat robots of the future.

Published Wed, May 26 2021 7:46 PM CDT
|
Updated Wed, Jun 23 2021 8:04 PM CDT
Alright, it seems our Russian robotic overlords aren't too far away from total and utter enslavement of the human race... yet... with Russia developing autonomous weapons and AI-powered technologies for the future of war.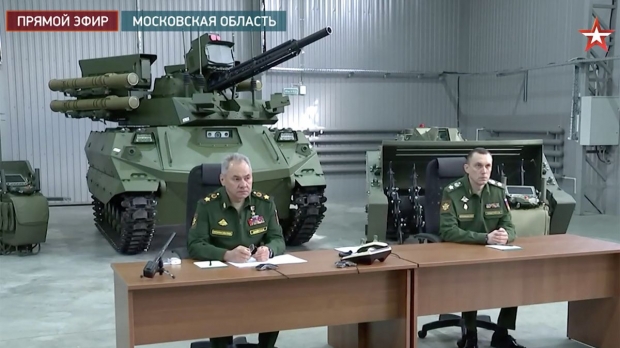 In a new report published by CNA nonprofit research and analysis group in Arlington, Virginia -- titled "Artificial Intelligence and Autonomy in Russia" the authors report: "the first major piece of US research that articulates contemporary Russia's main initiatives, achievements, and accomplishments in AI and autonomy efforts and places those initiatives within the broader technological landscape in Russia".
"Russian military strategists have placed a premium on establishing what they refer to as 'information dominance on the battlefield and AI-enhanced technologies promise to take advantage of the data available on the modern battlefield to protect Russia's own forces and deny that advantage to the adversary".
Russian President Vladimir Putin has been working closely with Chinese President Xi Jinping, bolstering their AI and robotic war future against the US.
As for the robots, Russia is reportedly working on inserting AI and autonomy into most of its future weapons and technologies with vehicles including land, air, and sea vehicles in the works. There's an anthropomorphic robot that has can hold two guns at once, driving cars, and even traveling into space.
Russian Defense Minister Sergei Shoigu said on Friday: "The serial production of combat robots has begun. What has emerged are not simply experimental, but robots that can be really shown in science-fiction films as they are capable of fighting on their own".
Uh, alrighty then... someone better warn John Connor, I guess.
Related Tags