Samsung first with DisplayPort LCD
30-inches at that.
Published Wed, Jul 25 2007 3:34 AM CDT
|
Updated Tue, Nov 3 2020 12:39 PM CST
Samsung Electronics has revealed the first display to feature the new DisplayPort interface that it has developed together with Intel, AMD, Nvidia, HP, Dell, Lenovo, Philips and others. DisplayPort is also sanctioned by VESA and it's the next generation display interface on computers, set to replace DVI, LVDS and D-sub.
However, there's a little while before you can go out and buy one of these, as they won't be available until Q2 2008. The demo display measures 30-inches and it has WQXGA (don't you just love acronyms?) resolution, which to most of us means 2,560x1,600 pixels.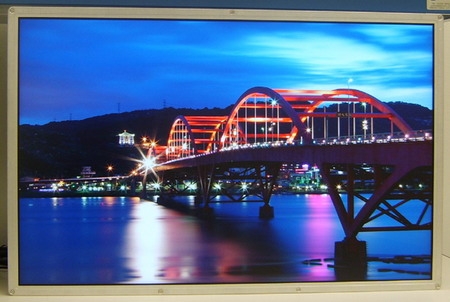 It's using a S-PVA panel and has a contrast ration of 1,000:1 with a response time of 6ms, which is all quite impressive for a panel this size. The panel was using a chip jointly developed by Samsung and Genesis Microchip for the DisplayPort interface and it features four 2.7Gbps lanes. This allows the panel to display 1.07 billion colours thanks to its 10-bit colour depth.
To do this with DVI would require three DVI interfaces according to Samsung, as DVI only have 1.65Gbps per lane, although dual link DVI is usually used for high resolution displays these days that double that bandwidth, although even this is limited to 2,048x1,536.
Now we just have to wait for DisplayPort enabled graphics cards to appear on the market, which might take a while, since there's kind of a chicken and egg effect until Samsung has its new display available for sale.