Auras launches new coolers
Works with Scythe in Japan.
Published Mon, Jul 23 2007 4:57 AM CDT
|
Updated Tue, Nov 3 2020 12:39 PM CST
A to us unfamiliar Taiwanese cooler manufacturer called Auras launched a range of innovative coolers today and although it's easy to see where Auras got some of the inspiration from, it's taken CPU coolers to another level. The first one is called CTC-868 and at first sight it looks like something that Zalman has cooked up, but it's rather different.
The CTC-868 has four heat pipes that are in a similar circular shape to some recent Zalman coolers, but this is where the similarities end, as the CT-868 uses dual fans for push-pull cooling. To further enhance its cooling ability, the CT-868 can be pulled apart to increase the airflow. The fans measure 92mm and the primary fan is adjustable between 800-2,400rpm, although the secondary is stuck at 1,200rpm. Both fans feature LED lights.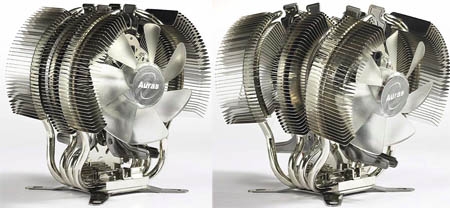 The cooler weighs a not insignificant 568.5g, but most of this is due to the heavy copper base. Auras claims that the CT-868 allows the CPU to run some 10.5 degrees cooler than with a standard Intel cooler.
Next up is the GTO-990, which is a completely different kind of beast and to be quite frank, we've never seen anything quite like it before. This is a self contained watercooling setup that's using a magnetic pump with a ceramic bearing and it only draws 3.6W of power. The details in the press release are quite scarce, but the cooler is using what Auras calls "unique industrial pipe" although it's hard to see where this is being used from the picture.
The GTO-990 features a 92mm fan with variable speed from 800-2,400rpm and it has built in LED lights. Apparently it's possible to increase the cooling performance by adding a second fan on the rear of the cooler. It comes pre-filled with coolant and shouldn't need any refills for 50,000 hours of continuous usage. Again, Auras claims that the GTO-990 should be some 11.5 degrees C better than the standard Intel cooler.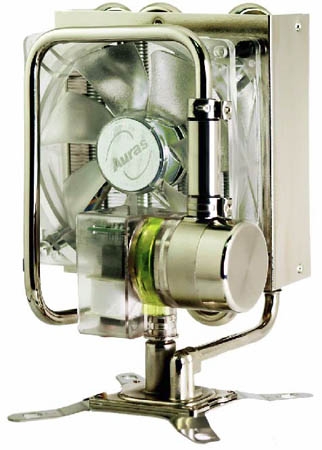 Finally we have the LPT-709 which is a fairly standard looking heatpipe cooler with four heatpipes and a 92mm fan. Auras claims that the wave-fin design should reduce drag and lower the noise. It's using the same fan as the GTO-990.
All three coolers are compatible with AMD and Intel CPU's and features what appear to be easily attachable brackets. At press time the Auras website wasn't working, but hopefully this will be resolved shortly.
You can find out more
here