Millions are in danger, severe weather warning issued for these states
Meteorologists have issued a severe weather warning as a massive storm is approaching several US states over this weekend.

Published Fri, Mar 12 2021 3:36 AM CST
|
Updated Tue, Apr 13 2021 5:34 AM CDT
A massive storm is approaching the United States, and now meteorologists have issued a severe weather warning to several states.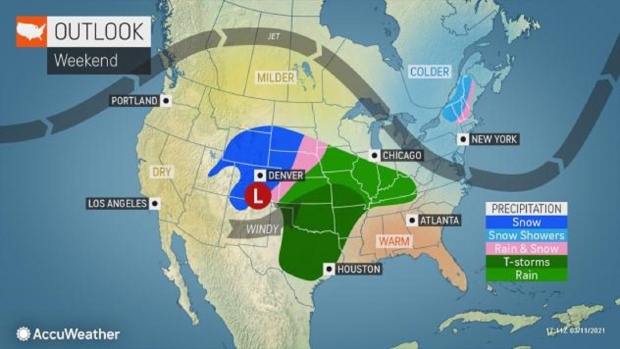 According to AccuWeather Lead Long-Range Meteorologist Paul Pastelok, "This could be the best setup for severe weather out of all the storms [so far this year]". Meteorologists have said that the approaching thunderstorm will unfold across the south-central United States across the weekend, and it will be bringing several feet of snow in the higher elevated places such as the Rockies and High Plains, as well as thunderstorms and downpours of rain.
AccuWeather Senior Meteorologist Alex Sosnowski said, "As the storm pivots eastward, it will draw warm, moist air northward from the Gulf of Mexico. At the same time, dry and cooler air from the Desert Southwest will shift eastward". The combination of hot and cold air will create the perfect conditions for a large thunderstorm to develop, hence the warning being issued for all states in the above image. For more information on this storm, check out this link here.
"At this time, all facets of severe weather are possible, ranging from flash flooding and hail to strong straight-line wind gusts and even a few tornadoes," said AccuWeather Chief On-Air Meteorologist Bernie Rayno.
Related Tags