Asus finally launches R.O.G. Blitz board
It's only taken two months...
Published Thu, Jul 12 2007 5:57 AM CDT
|
Updated Mon, Oct 19 2020 8:08 PM CDT
Asus latest addition to the Republic of Gamers (R.O.G) range of motherboard has finally arrived, although we had the scoop way before Computex. The Blitz series will be available in three different versions, the Extreme, the Formula and the Formula Special Edition. The difference between the two Formula versions is that the Special Edition comes with the Fusion Block water cooler that the Extreme has as standard.
The great feature of these boards is the inclusion of the Asus Crosslinx technology, which enables the x16 slot to be split into two x8 slots. This might sound odd, but for CrossFire this actually offers better performance than running a single x16 and a x4 slot as you normally would with the P35 chipset.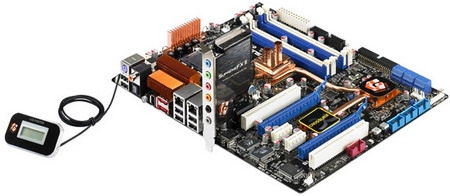 The boards also have some other great features such as the SupremeFX II audio card and the external POST LCD display. The Extreme features DDR3 support, while the Formula only supports DDR2 memory. All models will have six internal SATA connectors as well as two eSATA connectors. Dual Gigabit LAN and Asus' EZ backlit I/O panel is also part of the package. All models should be available as of now.