Resident Evil Village requires Radeon RX 6800 XT for ray tracing on PC
AMD teams with Capcom on ray tracing and AMD FidelityFX for next-gen visuals + ray tracing in Resident Evil Village on May 7.

Published Fri, Mar 5 2021 6:32 PM CST
|
Updated Thu, Apr 8 2021 4:35 AM CDT
AMD has just announced that Resident Evil Village and its ray tracing turned on will require an RDNA 2-based Radeon RX 6800 XT graphics card -- skipping over the just-announced Navi 22-based Radeon RX 6700 XT.
AMD tweeted out one of the most lowest-quality, heavily-compressed videos showing off the next-gen ray tracing graphics with Resident Evil Village on Twitter. On AMD's own website it states that you'll require a Radeon RX 6800 XT graphics card for ray tracing being turned on, but you'll only need an AMD Ryzen 5 1600 processor.
We don't know if NVIDIA will have RTX ray tracing inside of Resident Evil Village, but I'd dare say that if that happens it'll be many months before GeForce RTX owners will have it enabled. AMD will also have its own FidelityFX features inside of Resident Evil Village, which is part of their collaboration with Capcom.
Resident Evil Village is currently slated for release on May 7, 2020.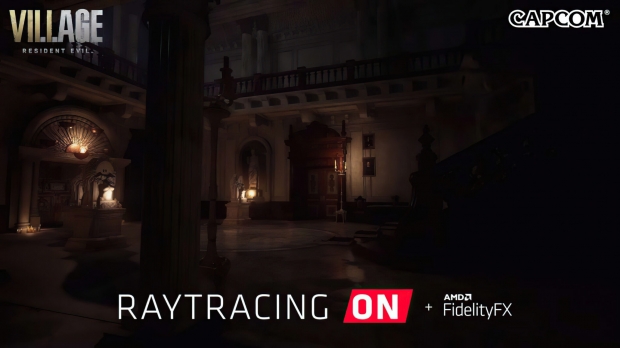 First-Person Action - Players will assume the role of Ethan Winters and experience every up-close battle and terrifying pursuit through a first-person perspective.
Combat - You must utilize numerous weapons and items against aggressive adversaries and add tools to your artillery for situations outside of battle.
Resource Management - Keeping track of your healing items and ammo is incredibly important for survival horror. Stay well-stocked for the battles ahead.
Familiar Faces and New Foes - Chris Redfield has typically been a hero in the Resident Evil series, but his appearance in Resident Evil Village seemingly shrouds him in sinister motives. A host of new adversaries inhabiting the village will relentlessly hunt Ethan and hinder his every move as he attempts to make sense of the new nightmare he finds himself in.
Related Tags