New runewords may come to Diablo II Resurrected post-launch
Diablo II Resurrected is just the beginning, and Blizzard plans to add in post-launch content including new runewords/balances.

Published Tue, Feb 23 2021 3:40 PM CST
|
Updated Tue, Mar 30 2021 6:32 AM CDT
Diablo 2 Resurrected is just the beginning, and Blizzard hints at plans to update the game post-launch.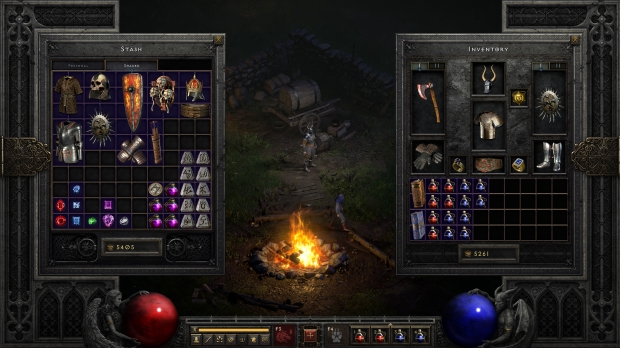 It has been years since Blizzard touched D2. The game's current version, 1.14, was released nearly 5 years ago and the game has remained static since. The new Diablo II Resurrected remaster may revitalize the ARPG classic with new post-release patches, updates, and content to change the meta and scope of the game.
The updates should start with new runewords. In a recent Q&A session, Diablo II Resurrected principal designer Ryan Gallerani hinted new runewords could drop after the game's launch.
When asked if Blizzard will be throwing any new runewords into Diablo II Resurrection, Gallerani said: "No, not this time." Does this mean new runewords will be added at another time? Or not at all?
Gallerani goes on to say the team is currently molding D2R around the game's live 1.14 version. Could we see 1.15 roll out after launch? Remember, Vicarious Visions, the developers behind Diablo II Resurrected, are now a part of Blizzard and are exclusively focused on Blizzard projects. It's possible the team has a roadmap of future content to slowly adapt and change Diablo II over time.
"We'll be going off of 1.14, the current live version. We wanted to focus on this foundation of the authentic experience. We didn't want to start balancing it out to something else. If we gave players this game they remembered but everything felt differently because we balanced it or rebalanced it, it's too many variables. So for right now we're pretty much focused on what's live today."
Diablo 4 is a long ways off, so Blizzard will release the new Diablo 2 remaster in 2021 to keep fans busy. The remaster is a D2 fan's dream, complete with upgraded visuals, quality of life improvements like no erased characters and shared stashes, and most importantly, 100% authentic gear, items, and gameplay. Core features haven't been changed, but Blizzard may make adjustments over time to keep things fresh.
Then again...they may keep the game entirely static and stuck in time. I'd love to see a new expansion, though, along with new runewords, new elite uniques, and all sorts of ways to keep players in the game. Diablo II is one of my favorite games of all time, but it's definitely possible to hit a content wall.
Read Also: Diablo 2 Resurrected remaster: Everything you need to know
Diablo II Resurrected is due out sometime in 2021, and will cost $39.99 across PS4, Xbox One, PS5, Xbox Series X, Nintendo Switch, and PC.
Check below for more information:
A Timeless Classic, Resurrected

Diablo® II: Resurrected™ is a remastered version of the quintessential action RPG Diablo® II. Pursue the mysterious Dark Wanderer and fight the denizens of hell as you uncover the fate of the Prime Evils Diablo, Mephisto, and Baal, now in up to 4K (2160p) resolution on PC. Diablo II Resurrected features:

Remastered graphics-monsters, heroes, items, spells, all resurrected.

An epic story told through five distinct acts.

Classic gameplay-the same Diablo II you know and love, preserved.

Updated Battle.net support.

Planned support for cross-progression-take your progress wherever you play.

... and much more!

The Lord of Destruction Returns

Diablo II: Resurrected includes all content from both Diablo II and its epic expansion Diablo II: Lord of Destruction®. Battle your way through icy caverns, horrific tombs filled with undead abominations, and frozen wastelands to the frigid summit of Mount Arreat and stop Baal, the Lord of Destruction. Raise hell with two Lord of Destruction playable classes-the cunning Assassin, master of traps and shadow disciplines, and the savage Druid, a bold shapeshifter and summoner who commands primal elemental magic.
Related Tags