1GB Sapphire Radeon HD 2900 XT in Japan
Already on sale.
Published Fri, Jul 6 2007 2:09 AM CDT
|
Updated Mon, Oct 19 2020 8:08 PM CDT
Availability of Sapphire's Radeon HD 2900 XT with 1GB of GDDR4 memory is available for purchase in Japan. Although unbranded 1GB cards have already been spotted around the web for sale, this is the first branded card to make an apperance.
If you want one of these babies you'll have to fork out a fairly steep US$640, although as always, these things tend to be slightly more expensive in Japan. There's no real way to spot the difference between the 512MB and 1GB, which is a bit of a shame if you're trying to show off in front of your friends.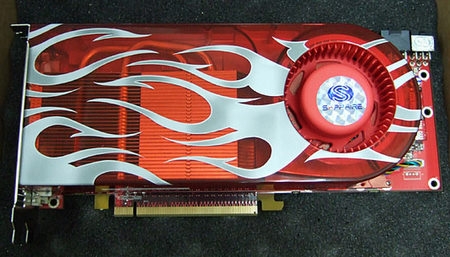 The 1GB cards are being reported as being clocked at 825MHz for the GPU, that's an 11% overclock compared to the default speed of 740MHz. Oddly enough the memory speed of these cards seems to vary between 2,050MHz and 2,200MHz, it seems like there might be some descrepancies in the information given by Sapphire here.
The question is how well these cards compare against the GeForce 8800GTX and the GPU overclock might just be enough to make these cards a close challenger.