Simple USB inflight charger
Uses the headphone socket.
Published Fri, Jul 6 2007 12:04 AM CDT
|
Updated Mon, Oct 19 2020 8:08 PM CDT
Ever had your MP3 player run out of juice mid-flight? Is there anything more annoying than having several hours left in the air without being able to power on your portable game console. Well, this might just be a problem of the past if we're to believe the claims of the Inflight USB Power Unit.
This is a nifty little box that allows you to draw power from the airplanes audio socket and it outputs regulated 5V power that allows you to charge a variety of devices.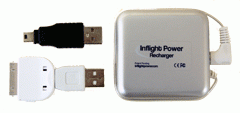 You can charge pretty much any device that connects and charges via a standard USB connector, although two different adaptors are available, one for iPod's and one is a mini USB connector.
Starting at US$34.99 this is a clever device that is ideal for long haul flights as it allows you to boost the battery life of your portable gadgetse, mobile phones and what not.
You can pick one up
here