Dr. Fauci says why the US stockpile of COVID-19 vaccines are empty
The nation's leading infectious disease expert, Dr. Anthony Fauci has said why the US supply of coronavirus vaccines is spent.

Published Thu, Jan 21 2021 5:27 AM CST
|
Updated Wed, Feb 24 2021 5:04 PM CST
Dr. Anthony Fauci has responded to the reports claiming that the US has exhausted its supply of coronavirus vaccines.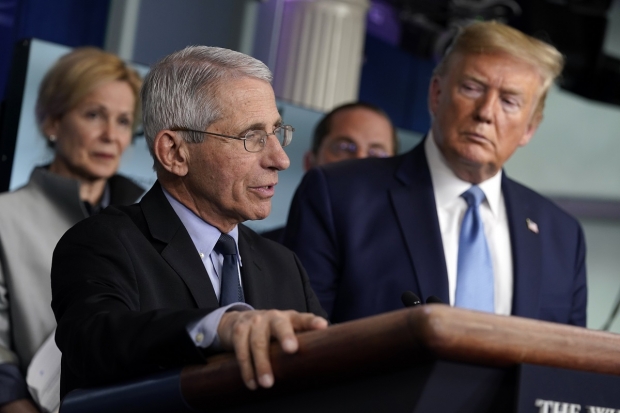 During an interview with NBC's 'Meet The Press', Dr. Anthony Fauci, the nation's leading infectious disease expert, was asked if the calling for the release of the vaccine stockpile, and then finding out there is no stockpile a "misunderstanding". Dr. Fauci responded by saying there was a lot of caution in the rolling out of coronavirus vaccines because health officials wanted to make sure people who got the first dose received a second dose.
This tactic caused a lot of vaccines to be withheld for a time being, as health officials wanted to ensure that the supply of vaccines was consistent. Dr. Fauci says, "there was a lot of caution, so we wanted to make sure that everyone who got a first dose, got a second dose on time. So, when doses were released, an equal amount was kept back to make sure if there were any glitches in the supply flow that the people who got their first doses would clearly get their second."
Dr. Fauci continued and explained that, "after a couple of cycles, when it became clear that the cadence, of the flow of doses, was really going to be consistent and reliable, the decision was made that instead of just giving enough for the first dose and holding back for the second dose, that as soon as they got the doses available they would give it because now they would have confidence that the next amount that they would get, they would have enough to give everybody the second dose, and then some the first dose."
For more information on this story, visit this link here.
More Important Coronavirus News:
This new coronavirus strain is spreading rapidly in this US state
This is when you can expect to get Biden's $1,400 stimulus check
Dr. Fauci says these 2 new COVID-19 vaccines are only 'weeks' away
The odds of dying within 5 months after surviving COVID are shocking
Top epidemiologist says COVID-19 vaccines need to stop because of this
Here's the reason why new COVID-19 strains are being found in the US
Dr. Fauci says buying this will protect your home against coronavirus
Mild-COVID cases are being crippled by this health issue months later
WHO is 'blunt' and says this is 'not right' about COVID-19 vaccines
This is the hidden coronavirus symptom that is absolutely terrifying
Doctor shows how post-COVID lungs look worse than any 'smoker's lung'
CDC warns UK coronavirus strain will dominate US in this many months
Expert warns how we are in a deadly race against the COVID-19 pandemic
Vaccines may not 'impact' this 'escape mutant' COVID-19 strain
Dr. Fauci warns 'more ominous' COVID-19 strains are in these countries
Dr. Fauci said these things are 'proven' to stop COVID-19 spreading
This is how a smart watch can predict your coronavirus infection
This is how the Apple Watch can predict COVID-19 before any symptoms
This cheap vitamin may save you from a severe COVID-19 infection
If you want your COVID19 vaccine right now, this is the way to get it
You may not get your stimulus check on time, this is the dumb reason
This 'perfect health' nurse died only days after a COVID-19 vaccine
This group of people is spreading 50% of coronavirus cases
If you're one of these people you'll be made to get a COVID-19 vaccine
Dr. Fauci says this is when the US will be close to '100% normal'
Related Tags