This is the hidden coronavirus symptom that is absolutely terrifying
A doctor has come out and said that a coronavirus infection does more damage to a persons lungs than any type of smoking.

Published Mon, Jan 18 2021 9:08 AM CST
|
Updated Mon, Feb 22 2021 5:35 PM CST
There are many coronavirus symptoms out there to be worried about, and one of them that could be the worst one to get is even happening in coronavirus survivors.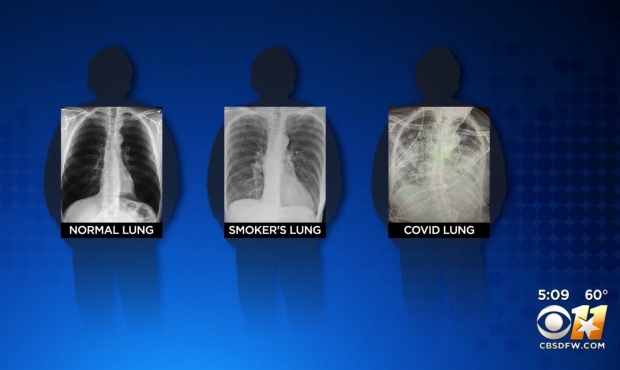 Many people are still experiencing coronavirus symptoms after they have survived the infection, and according to one trauma surgeon from Texas, the lungs are a massive concern. Dr. Brittany Bankhead-Kendall tweeted, "Post-COVID lungs look worse than any type of terrible smoker's lung we've ever seen. And they collapse. And they clot off. And the shortness of breath lingers on... & on... & on."
The doctor continued and explained that even people who were asymptomatic are showing damage to the lungs. Bankhead-Kendall has treated thousands of coronavirus patients since March, and of those who were asymptomatic, severe signs of lung damage showed up in 70% to 80% of patients. "There are still people who say 'I'm fine. I don't have any issues,' and you pull up their chest X-ray, and they absolutely have a bad chest X-ray," said Bankhead-Kendall.
Bankhead-Kendall further explained that even if you are feeling fine now but show signs of scaring, "it sure is indicative of you possibly having problems later on." For more information on this story, visit this link here.
More Important Coronavirus News:
This is how a smart watch can predict your coronavirus infection
This is how the Apple Watch can predict COVID-19 before any symptoms
This cheap vitamin may save you from a severe COVID-19 infection
If you want your COVID19 vaccine right now, this is the way to get it
You may not get your stimulus check on time, this is the dumb reason
This 'perfect health' nurse died only days after a COVID-19 vaccine
This group of people is spreading 50% of coronavirus cases
If you're one of these people you'll be made to get a COVID-19 vaccine
Dr. Fauci says this is when the US will be close to '100% normal'
Related Tags