1 to 3 Blu-ray duplicator for US$2,999
With eSATA interface.
Published Tue, Jun 26 2007 1:35 AM CDT
|
Updated Mon, Oct 19 2020 8:08 PM CDT
Aleratec has just launched its 1:3 Copy Cruiser Blu, which is a high speed Blu-ray/DVD/CD duplicator which can make up to three simultaneous copies of all three types of media. It incorporates three SATA Blu-ray drives and the external enclosure has an eSATA connector that allows you to attach it to your PC and a dual channel eSATA card is supplied in the box.
It also comes with Aleratec's Disc Recording and Disc Duplicating software suite that allows you to write data and backups to the 1:3 Copy Cruiser Blu. For those based in the US, Aleratec is also offering a special mail in offer where you get 20 BD-R Blu-ray discs for free before the 31st of July.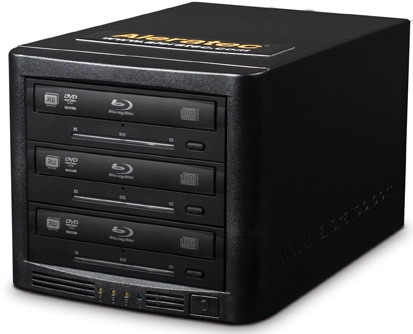 The 1:3 Copy Cruiser Blu is expected to retail for around US$2,999, which is actually quite reasonable considering the price of a single Blu-ray recorder, although it seems like it's currently listed for $3,199 on the Aleratec website. Click
here
for more info.