Samsung mass produces 64GB SSD drives
1.8-inches.
Published Mon, Jun 25 2007 1:55 AM CDT
|
Updated Mon, Oct 19 2020 8:08 PM CDT
Samsung has announced that it is mass producing 64GB SSD drives, which it claims is the highest density drives available today. The drive consists of eight 64Gbit single-level cell flash memory chips that are manufactured at 51nm. It looks like the first model is IDE only, although we'd expect SATA drives to follow.
Samsung expects a huge growth in the SSD market and if Computex this year is anything to go by, it looks like a lucrative market that many companies are looking at getting into. Although 64GB isn't the biggest size to have been shown, it seems like Samsung has the biggest available drive. No pricing was given, but you can bet on the fact that it won't be cheap.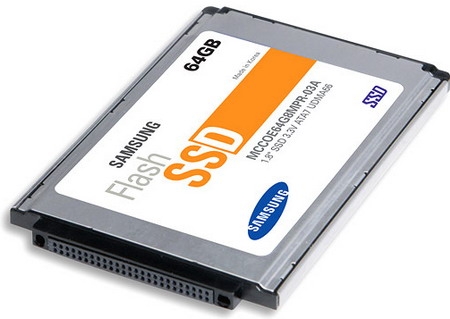 Rapid expansion of the 1.8-inch SSD market will spark demand for even smaller SSD formats to be used in mobile consumer electronics. The miniaturization of SSDs will give rise to new types of digital products. Over the next three years, 2.5-inch and 3.5-inch SSDs will also gain a great deal of momentum for widespread use in standard notebooks and desktop PCs, respectively.
You can read the full press release
here