OCZ goes low latency on DDR3-1333
If you can call CL7 low.
Published Wed, Jun 20 2007 9:59 PM CDT
|
Updated Mon, Oct 19 2020 8:08 PM CDT
OCZ has been a strong driving force in the high-end memory market for a long time now and it's something of a house brand when people go shopping for quality, low latency and overclockable modules. DDR3 is something of a problem for all memory manufacturers out there due to the increased latency it has over DDR2. However, you might remember that this was the same problem going from DDR to DDR2 and people weren't happy then either.
But we survived and moved on and fully embraced DDR2 in the end and now you can get CL3 modules. It's unlikely that DDR3 will hit these kinds of latencies any time soon, but the new OCZ PC3-10666 Platinum edition is rated at CL-7-7-7 which is better than most other 1,333MHz DDR3 modules out there.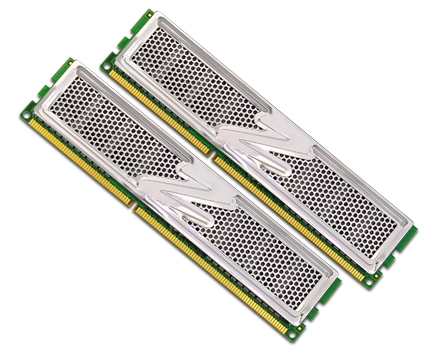 These new modules will be available in 2x512MB and 2x1024MB dual channel kits and come with the platinum XTC heatspreaders. They're currently available in limited quantities and OCZ is working together with motherboard manufacturers to ensure the best performance and compatibility.
You can find out more
here