X-Fi Xtreme Audio PCI-e arrives
In Japan and it's cheap.
Published Tue, Jun 12 2007 9:55 PM CDT
|
Updated Mon, Oct 19 2020 8:08 PM CDT
The Sound Blaster X-Fi Xtreme Audio PCI-e has finally arrived, although it's only an OEM card so far as it doesn't come in a retail box. It looks rather basic with support for 7.1-channel analogue outputs and optical S/PDIF in and out. This card doesn't seem to have support for any of the upgrade options that the current X-Fi cards have and the audio processor looks like it comes from the newer entry level cards.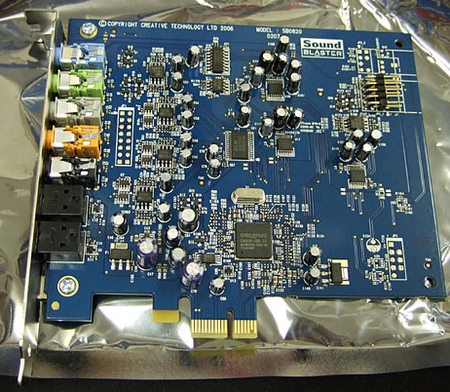 The blue PCB also makes it look more like he entry level products, as the higher end cards are using a black PCB. It also seems to lack support for some of the more advanced audio features, again akin with the lower end models. Interestingly it seems to have a standard connector for case mounted audio connectors, so it would be easy to use this card with the front audio connectors on your case. At US$65, it is priced quite reasonable and it ships with Windows Vista drivers.