Check out these leaked NVIDIA GeForce RTX 3090 benchmark scores
NVIDIA's beast 8K gaming card in the GeForce RTX 3090 leaked 3DMark scores: 19% faster than RTX 3080, 42% faster than RTX 2080 Ti.

Published Sat, Sep 19 2020 12:18 AM CDT
|
Updated Wed, Nov 25 2020 7:28 PM CST
NVIDIA's new beasty GeForce RTX 3090 is coming really soon, and will be an 8K gaming beast -- but now we have some leaked 3DMark benchmark scores to drool over.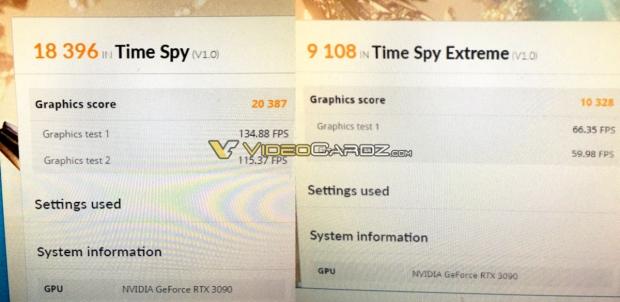 The new GeForce RTX 3090 graphics card is based on the GA102-300 GPU, and when used in 3DMark TimeSpy Extreme (4K) the graphics score the RTX 3090 pumps out is 10328. Compare this to the 8596 of the RTX 3080 and the 6503 of the RTX 2080 Ti, and 5265 of the RTX 2080 SUPER.
NVIDIA's new GeForce RTX 3090 packs 24GB of ultra-fast GDDR6X memory, and priced at $1499 -- it launches on September 24. I have samples in the air and on the way, I can't wait.
Read more: Here's a family photo of NVIDIA's new GeForce RTX 3090, GeForce RTX 3080, and GeForce RTX 3070 graphics cards.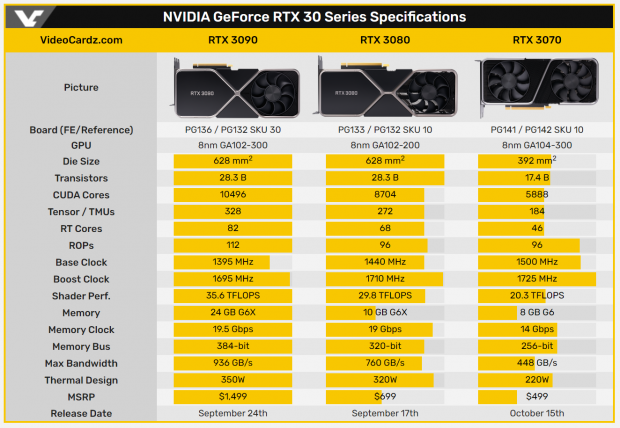 GeForce RTX 3090: A Big, Ferocious GPU
It's the fastest GPU ever built for gaming and creative types and is designed to power 60 fps at 8K resolution.

24GB of GDDR6X memory can tackle the most challenging AI algorithms and feed massive data-hungry workloads.

It's up to 50% faster than the TITAN RTX.

It even comes with silencer - a three-slot, dual-axial, flow-through design - up to 10x quieter and keeps the GPU up to 30 degrees C cooler than the TITAN RTX.

Available starting Sept. 24 at $1,499.
New features
Dual-Axial, Flow-Through Thermal Solution - Up to 2x more cooling performance, with a stunning unibody design. Gamers and creators will be able to enjoy unrivaled performance while their GPUs simultaneously run cooler and quieter than ever.
Exquisite Mechanical and Electrical Design - A stronger mechanical structure - with a new low-profile leaf spring along with a new 12-pin power connector - allows more space for components and cooling, and is compatible with 8-pin connectors in existing power supplies, with an included adapter.
HDMI 2.1 - The increased bandwidth provided by HDMI 2.1 allows, for the first time, a single cable connection to 8K HDR TVs for ultra-high-resolution gaming.
AV1 Decode - First discrete GPUs with support for the new AV1 codec, enabling gamers to watch up to 8K HDR internet video using as much as 50 percent less bandwidth.
AMD Ryzen 7 3700X 8-Core, 16-Thread Unlocked Desktop Processor (AMD Ryzen 7 3700X)
Related Tags