Here's why coronavirus temperature checks could be completely useless
A study has found that coronavirus screening via no-contact thermometer temperature checks may actually be completely useless.

Published Tue, Aug 11 2020 7:32 AM CDT
|
Updated Tue, Nov 3 2020 11:42 AM CST
By now, you have probably had several coronavirus temperature checks, as they have become somewhat of a default way for people to evaluate if a person has contracted the virus.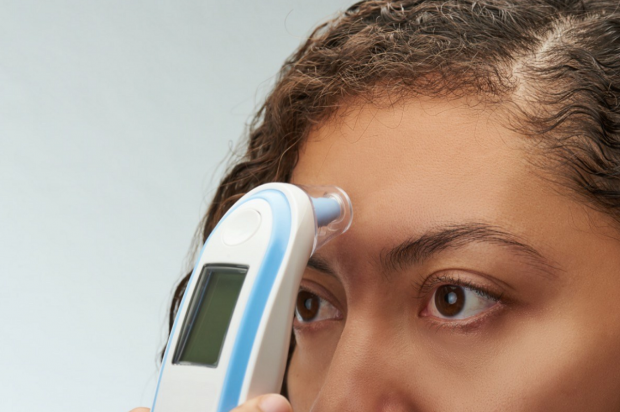 But what if temperature checking isn't as reliable as we think it is? According to a recent paper published in the journal Travel Medicine and Infectious Disease, researchers found that temperature checks may not be all they are cut out to be, especially in younger individuals. The researchers conducted a study on 85 men doing basic military training, the median age of the group was 21 years old, and all the men were confirmed to have COVID-19.
The researchers examined each of the men and found that while there fevers were initially high, their body temperatures reduced back down to normal. Additionally, the researchers found that after five days, none of the patients had a fever and that 83% of the patients didn't even develop a fever. Lastly, none of the patients developed a fever for longer than three days. So, why is this concerning?
Well, researchers have basically agreed that a person with a COVID-19 infection can be infectious up to 10 days after the initial infection. This means that the temperature screening process for at least these military men, in particular, wouldn't have detected the virus within the ten infectious days, which could then result in them passing the virus on to someone else.
Here's what the researchers said, "Screening for fever is not sensitive enough to detect the vast majority of COVID-19 cases in the age group between 18-25 years. Even a low-temperature cut-off value of 37.1°C [98.8 degrees Fahrenheit] will miss more than a third of symptomatic cases of COVID-19 on the day of diagnosis and will cause a large number of false-positives."
If you are interested in reading more on this subject, check out this link here.
Important Coronavirus Information:
Here's the CDC's new grim update for coronavirus deaths in America
This is what's holding up the second coronavirus stimulus checks
Pelosi takes aim at President Trump for coronavirus stimulus deadlock
Trump administration official: 'I can't recommend' hydroxychloroquine
Here's what's stopping the next round of coronavirus stimulus checks
This is when you can expect another $1,200 coronavirus stimulus check
This is easily the worst coronavirus prediction from the WHO yet
Here's how the second coronavirus stimulus check could be $3,400
$3,400 coronavirus stimulus checks 'ready to be sent out', says Trump
Trump touts coronavirus is 'under control', as US death toll grows
Here's Dr. Fauci's updated coronavirus prediction for this Fall
Everyone's body may already hold the secret to coronavirus immunity
Dr. Fauci says this is the big second coronavirus wave warning sign
If you have this disease and coronavirus the case fatality rate is 29%
If you have this disease coronavirus is 60% more likely to kill you
White House task force warns of coronavirus uptick in these 9 cities
Related Tags