Pelosi slams Trump's executive order, says 'absurdly unconstitutional'
House Speaker Nancy Pelosi said President Trump's executive actions aimed at coronavirus relief is 'absurdly unconstitutional'

Published Mon, Aug 10 2020 6:33 AM CDT
|
Updated Tue, Nov 3 2020 11:42 AM CST
If you happened to miss the news, over the weekend, President Trump signed in a new executive order aimed at providing relief for Americans affected by the coronavirus pandemic.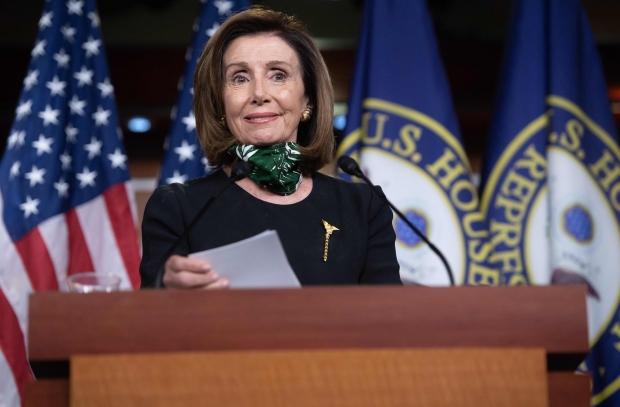 This past Sunday, House Speaker Nancy Pelosi commented on the executive order signed in by President Trump, saying to CNN that they're "unconstitutional slop". The signing happened on Saturday after both Republicans and Democrats couldn't reach an agreement on the second stimulus bill.
Pelosi spoke to CNN's Dana Bash, saying, "Well, the fact is, is that whether they're legal or not takes time to figure out. I associate my remarks with what the Senator (Ben) Sasse, who says, they're 'unconstitutional slop.' Right now, we want to address the needs of the American people. As my constitutional advisers tell me, they're absurdly unconstitutional." So, what does this mean for the second coronavirus stimulus check?
Important Coronavirus Information:
Here's the CDC's new grim update for coronavirus deaths in America
This is what's holding up the second coronavirus stimulus checks
Pelosi takes aim at President Trump for coronavirus stimulus deadlock
Trump administration official: 'I can't recommend' hydroxychloroquine
Here's what's stopping the next round of coronavirus stimulus checks
This is when you can expect another $1,200 coronavirus stimulus check
This is easily the worst coronavirus prediction from the WHO yet
Here's how the second coronavirus stimulus check could be $3,400
$3,400 coronavirus stimulus checks 'ready to be sent out', says Trump
Trump touts coronavirus is 'under control', as US death toll grows
Here's Dr. Fauci's updated coronavirus prediction for this Fall
Everyone's body may already hold the secret to coronavirus immunity
Dr. Fauci says this is the big second coronavirus wave warning sign
If you have this disease and coronavirus the case fatality rate is 29%
If you have this disease coronavirus is 60% more likely to kill you
White House task force warns of coronavirus uptick in these 9 cities
Recently, the Trump administration rejected a Democratic offer of a $2 trillion stimulus packages, which has caused lawmakers to enter another round of negotiations for the second coronavirus stimulus package. When Pelosi was asked about future negotiations, here's what she said, "Well, we have to. We have to, and that's why we were willing to say we'll come down a trillion."
If you are after more information, check out this link here.
Related Tags