Dr. Fauci busted not wearing mask, social distancing at baseball game
Dr. Anthony Fauci busted at baseball game not socially distancing, not even wearing a mask sitting very close to other people.

Published Sun, Jul 26 2020 2:36 AM CDT
|
Updated Tue, Nov 3 2020 11:42 AM CST
Dr. Anthony Fauci was recently at the Washington Nationals game on Thursday night, where he threw the first pitch of the game. It was a casual moment in the middle of a pandemic, but it was Dr. Fauci's next act that would make headlines.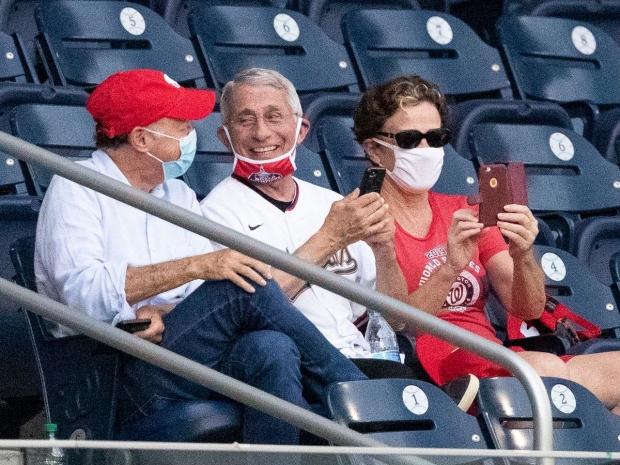 The director of the National Institute of Allergy and Infectious Diseases and the advisor to President Trump's own COVID-19 coronavirus task force has been telling every other American to wear a mask... except, he doesn't. After he threw the first pitch, Dr. Fauci went into the stands to sit with his friends.
He was spotted, very clearly I might add, without his mask on -- sitting directly next to two people. So he's not practicing what he preaches -- not wearing a mask (big no no) and not socially distancing (another big no no). But hey, he's Dr. Fauci and he had a perfect excuse.
In a now-deleted tweet, New York Magazine and Huffington Post contributor Yasher Ali said Dr. Fauci should be setting a better example -- and I agree. The entire mainstream media would pick on President Trump and probably forcibly impeach him if he did this, Dr. Fauci is sitting there laughing and having a great time.
But don't worry, Dr. Fauci has the perfect excuse.
Dr. Fauci explains: "I had my mask around my chin. I had taken it down. I was totally dehydrated and I was drinking water trying to rehydrate myself. And by the way, I was negative COVID literally the day before. So I guess people want to make a big event. I wear a mask all the time when I'm outside. To pull it down to take some sips of water and put it back up again, I guess if people want to make something about that, they can. But to me, I think that's just mischievous".
I'll let the good doctor's own words explain this...
Dr. Fauci said that millennials and young adults should wear masks, and practice social distancing. He said: "You don't realize, probably innocently, that you are inadvertently propagating the outbreak. You are becoming part of the problem because, even if you get infected without any symptoms, it is likely that you are going to infect someone else".
Yet, Dr. Fauci is sitting there directly next to two people without a mask on.
Got it.
Related Tags