CeBIT 2007 - Commodore Gaming PC photos
CeBIT 2007 - Commodore Gaming PC photos news post from TweakTown's online news computing and technology content pages.

Published Thu, Mar 15 2007 5:35 AM CDT
|
Updated Tue, Nov 3 2020 12:39 PM CST
Were you a fan of Commdore's computers back in the day?
You'll be pleased to find out that the brand has been reborn with the launch of Commodore Gaming. They intend on producing high-end gaming PC's with the aim of taking on the likes of Alienware, Falcon Northwest, and Voodoo PC.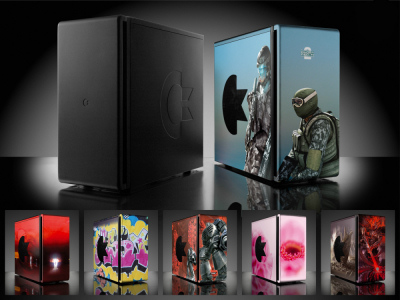 Bala Keilman, CEO for Commodore Gaming, commented "The all new Commodore range of PC's will allow gamers of all levels to enjoy the best that PC gaming has to offer...We wanted to bring something new to the market, in the spirit of our Commodore heritage, and have worked hard to design a fully personalized product." Indeed, each machine is uniquely painted and customized to the customer's desire. Styles can range from the buyer's own submitted artwork to photography, graffiti, or game art (like Ghost Recon Advanced Warfighter 2, pictured here).

The Commodore gaming PC's will come with a two-year warranty on parts and service. The models, from entry-level to high-end, are the Commodore Cg, Cgs, Cgx, and Cxx.
More at Primotech