DirectX 12 Ultimate announced: the gold standard for next-gen games
DirectX 12 Ultimate arrives at a perfect time, acting as a 'force multiplier' for next-gen consoles, next-gen games, and the PC.

Published Thu, Mar 19 2020 9:59 PM CDT
|
Updated Tue, Nov 3 2020 11:44 AM CST
Microsoft has just unveiled DirectX 12 Ultimate -- a new version of its DirectX 12 standard which has radically improved features and capabilities that will drive the next generation of games on not just Windows, but consoles too.
DirectX 12 was first released back in 2014 if you can even believe it has been that long, with DirectX 12 Ultimate delivering some gigantic and much-needed upgrades. It includes Ray Tracing 1.1 support, which sees graphics cards not needing to talk to the CPU, making game development much easier for developers making games for the Xbox Series X, PlayStation 5, and PC.
Microsoft principal dev lead, Shawn Hargreaves, explained in a blog post: "When gamers purchase PC graphics hardware with the DX12 Ultimate logo or an Xbox Series X, they can do so with the confidence that their hardware is guaranteed to support all next generation graphics hardware features, including DirectX Raytracing, Variable Rate Shading, Mesh Shaders and Sampler Feedback. This mark of quality ensures stellar 'future-proof' feature support for next generation games".
We won't see the upgrades in our games overnight, but the next generation of games will have these special DirectX 12 U (can I call it DX12U or something, guys?) herbs and spices sprinkled on top. The next-gen consoles are going to be a driving force behind this, and it's interesting (and great) to see NVIDIA in the middle of this as AMD are the hardware provider for the Xbox Series X and PlayStation 5 consoles.
As a hardcore enthusiast on the PC and hardware enthusiast for next-gen consoles, I can't wait for DirectX 12 Ultimate. I'm buzzing with excitement for the next generation of games as it is, but this is just fueling that fire even more.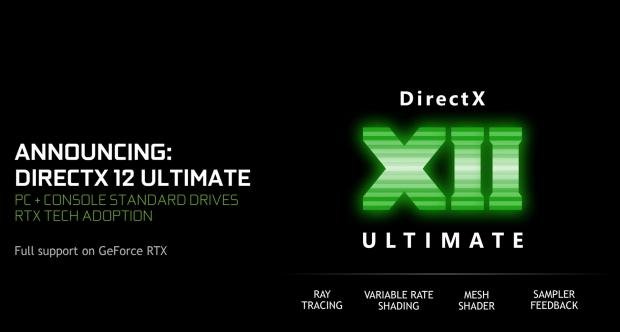 Related Tags