Call of Duty: Warzone update adds solo mode, and fixes in-game bugs
A new update has arrived for Call of Duty: Warzone adding solo mode and fixing a bunch of in-game bugs.
Published
|
Updated Tue, Nov 3 2020 11:44 AM CST
2 minutes & 22 seconds read time
Call of Duty: Warzone is off to a big start, with over 15 million players already joining in on the action.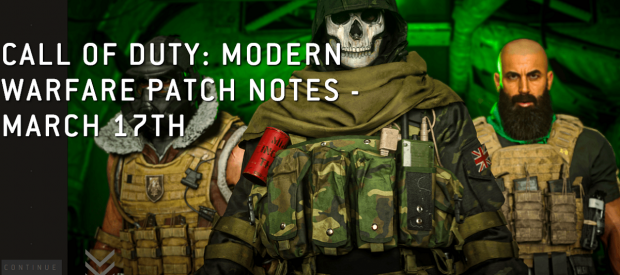 Warzone is amassing extreme popularity in the battle royale genre, and to keep players enticed Infinity Ward and Activision have rolled out a new update. Inside of this update are numerous bug fixes that the community was no doubt complaining about, and an addition to being able to jump into Warzone completely solo.
Infinity Ward will no doubt contain rolling out updates that contain fixes for Warzone, as the game is still young and has a lot of distance still yet to go. One of the more notable bug fixes inside this update is that players who downed an enemy player will be rewarded with kills, instead of who killed the enemy player while they were down. If you are interested in checking out the full update notes, dot points have been provided in the entirety of this post, or a link to the official site can be found here.
PLAYLIST UPDATE:
Multiplayer:
Cranked Kill Confirmed

Mercenary Moshpit

Atlas Superstore 24/7 (10v10) "Doorbuster 24/7"

Gunfight is now St. Patrick's Day themed!
Battle Royale:
Solo Mode! That's right. Just you.
GENERAL FIXES:
Fix for a rare bug where players could have increased movement speed after coming out of the Gulag and back into the game

Fixed a bug where players may find their weapon in a stowed position and are unable to reload or use their weapon

In some cases, players could become stuck under Buy Stations when prone. This has been fixed

The Threat UI could disappear from the screen if players complete a contract while they are being hunted from a Bounty Contract. This has been fixed

Updated text to "Redeploy Squadmate" to make it a little more obvious on screen when you can buy back a teammate

Fix for the last objective in the "Boats and Trains" Mission not tracking as intended

Kills are now credited to the player who downed the enemy player.

Fix for an exploit where players were able to shoot while downed

Fixed a bug where players were unable to deposit cash using balloons if their settings were set to "Contextual Tap"

Fixed a bug where players were able to clip into the walls in the Hospital
Related Tags