Xbox Series X enhanced games aren't compatible with HDDs
Next-gen Xbox has removable SSD memory cards, but next-gen enhanced games won't play on external HDDs.

Published Mar 16, 2020 5:29 PM CDT
|
Updated Tue, Nov 3 2020 11:44 AM CST
Memory cards are back and they're better (and more expensive) than ever. The Xbox Series X will use special memory cards to expand the console's built-in 1TB solid state drive. External hard drives are still supported, but they offer limited functionality and are locked to older games.
Microsoft has teamed up with Seagate to make special expandable memory cards for the Xbox Series X that plug into that vertical slot in the console's rear side. These cards pack fully-fledged PCIe 4.0 SSDs that're identical copies of the powerful drive used in the console. The Xbox Series X also supports current external HDDs as expandable memory. But things get a bit tricky with legacy HDDs.
Games that're optimized to use the new hardware aren't compatible with HDDs because of the huge performance disparity. Although Xbox Series X won't get exclusive games, it will offer enhancement upgrades of games that use the new high-speed SSD's DirectStorage and Xbox Velocity Architecture. Once a game is upgraded, it can hit high performance like 120FPS with ray tracing, 4K 60FPS, and more, but only if it runs from the internal SSD or the new expandable storage drives.
"You can continue to use your existing USB 3.1+ external hard drives on Xbox Series X and you can run Xbox One, 360 and OG Xbox games directly from the external USB HDD. Games optimized for Xbox Series X and the Velocity Architecture need to be run from the internal SSD or the Expandable Storage Drive," Microsoft told The Verge.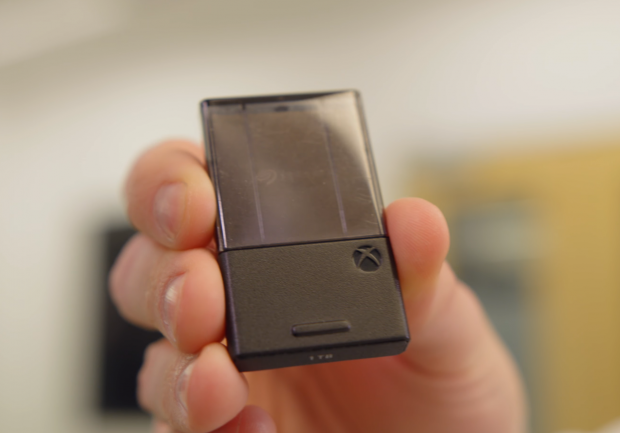 Photo: Austin Walker, YouTube
Read Also: Full Xbox Series X specs: 3.8GHz Zen 2 CPU, 16GB GDDR6, 52CU Navi GPU
So don't expect to move your Xbox Series X-enhanced games to an external HDD and enjoy the same experience. The Xbox Series X enhanced games are depending on the SSD in order to hit higher-end performance.
The cards, which look to be on the CFexpress form factor, can deliver 2.4GB/sec data transfer speeds for uncompressed data. Older games that aren't optimized for the system will use uncompressed data. Remember, it's still possible to download and play legacy games on the Xbox Series X.
The enhanced games that're designed to tap the new Velocity Architecture can hit up to 4.8GB/sec data transfers thanks to the new DirectStorage compression system. That's roughly 40x faster than the slow RPM drives in the Xbox One family. But this isn't something that all games will hit, only those that're optimized for the system.
(Continued below)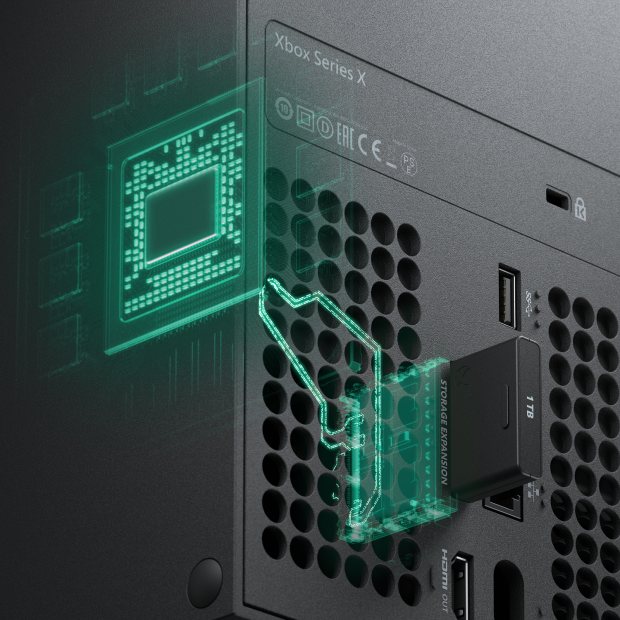 Read Also: Xbox Series X SSD is revolutionary, changes Xbox gaming forever
Some of these console upgrades are automatically done by the system. The Xbox Series X can natively boost resolution of select current-gen games to native 4K. The first game to get native 4K boosts is Gears of War 4: Ultimate from 2015.
Other enhancements that push the perf boundaries even further need to be manually issued out by developers via updates and patches. We also got a taste of these new updates with Gears of War 5 running at over 100FPS on Ultra PC presets with ray tracing effects with GeForce RTX 2080 equivalent performance.
These are the kinds of things that won't be available on a HDD. The upgrades are made possible by the enhanced delivery mechanisms and ultra-fast, ultra-efficient capabilities of the customized SSD tech.
Built in partnership with Seagate, this 1 TB custom storage solution expands storage capacity of Xbox Series X with the full speed and performance of the Xbox Velocity Architecture Previous generation Xbox titles can still be played directly from external USB 3.2 hard drives.

However, to receive all the benefits of the Xbox Velocity Architecture and optimal performance, Xbox Series X, optimized games should be played from the internal SSD or Xbox Series X Storage Expansion Card.
External HDDs will instead be storage lockers for legacy titles. I'm curious if the console will be able to natively boost portions of the game even if it's running on an HDD. Probably, but don't expect any crazy effects like native 4K scaling and 120FPS.
The real concern here is cost. CFexpress cards aren't cheap, and we're betting a 1TB NVMe custom card won't be either. Expect to shell out $150 or more on these new memory cards.
Xbox Series X is due out by Holiday 2020. No pricing has been announced.
Check below for confirmed specs and details, and a huge content listing of everything we've heard about Xbox Series X so far: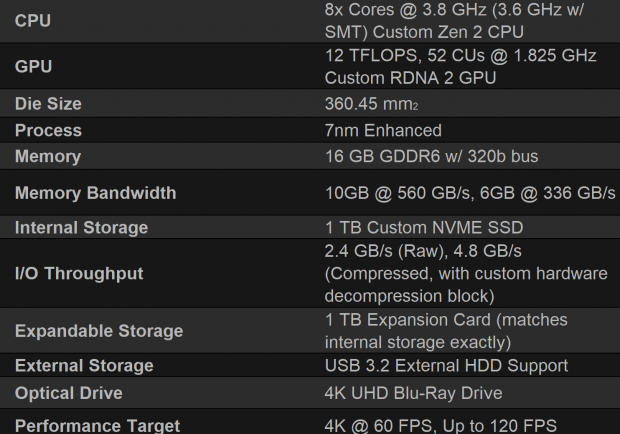 Xbox Series X confirmed details (Formerly Project Scarlett):
8-core, 16-thread Zen 2 CPU

12.15 TFLOP Navi GPU on RDNA 2 architecture

7nm+ AMD SoC

16GB GDDR6 memory

2x Xbox One X's 6TFLOPs of GPU perf

4x CPU power of Xbox One generation

Can deliver up to 40x more performance than Xbox One in specific use cases

Adaptive sync supported

Super-fast SSD that can be used as VRAM

Supports 8K resolution (likely media playback)

120FPS gaming

Variable refresh rate (adaptive sync/FreeSync)

Variable Rate Shading

Raytracing confirmed with dedicated raytracing cores

Backward compatible with thousands of Xbox, Xbox 360, and Xbox One games

New controller with a dedicated share button

Compatible with Xbox One accessories
Xbox Series X coverage:
Related Tags