AOC Agon AG353UCG: 35-inch 3440x1440 at 200Hz G-SYNC Ultimate monitor
AOC's new Agon AG353UCG monitor: big, beautiful, and insane -- 3440x1440 @ 200Hz with NVIDIA G-SYNC Ultimate.

Published Thu, Feb 20 2020 8:20 PM CST
|
Updated Tue, Nov 3 2020 11:44 AM CST
AOC has just unveiled its new AGON AG353UCG gaming monitor, rocking a huge 35-inch 21:9 panel with a native 3440 x 1440 resolution, super-smooth 200Hz refresh rate and NVIDIA G-SYNC Ultimate certification.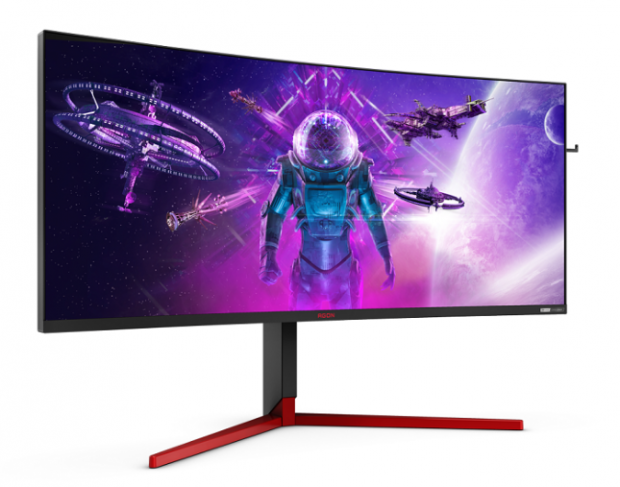 The new AGON AG353UCG gaming monitor has the same display size, native resolution, refresh rate, and G-SYNC Ultimate goodness as the flagship ASUS ROG Swift PG35VQ which I reviewed, and loved. AOC's new AGON AG353UCG seems to be using the same panel, right down to the 1000 nits of brightness for HDR content, and 90% of the DCI-P3 color space.
AOC is using the same quantum dot technology as ASUS inside of its ROG Swift PG35VQ gaming monitor, so the differences here are going to be coming down to the price. At the time of writing, ASUS was selling its ROG Swift PG35VQ on Amazon for $2500 -- while the AOC Agon AG353UCG isn't available in the US right now but with a converted price we're looking at $2600.
If that's the case, I'd go for the ASUS monitor over the AOC -- but I really need to test out the Agon AG353UCG before I make that judgement. If it's using the same panel as the ROG Swift PG35VQ, then you'd expect virtually identical quality between the two -- but you'd want a cheaper price if you weren't buying a big name like ASUS, though.
Related Tags