Qualcomm Snapdragon X60: next-gen 5G modem announced, built on 5nm
Qualcomm's new Snapdragon X60: 5nm tech, up to 7.5Gbps download speeds.

Published Tue, Feb 18 2020 9:11 PM CST
|
Updated Tue, Nov 3 2020 11:44 AM CST
Qualcomm has just unveiled its new Snapdragon X60 modem, built on the new and super small 5nm node, the new 5G modem won't make it into smartphones until sometime in 2021.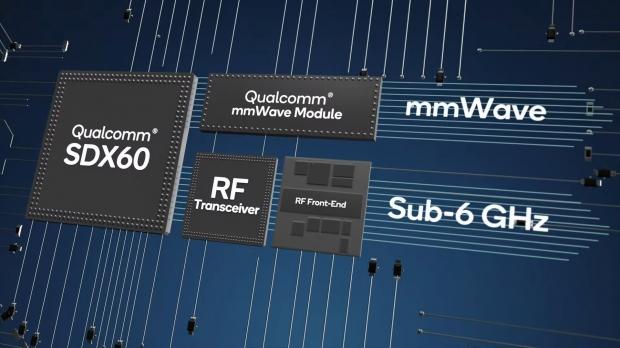 The new Qualcomm Snapdragon X60 5G modem-RF System sees customers like Apple for example, buying its X60 modem alongside the separate RF antenna in a single package. Qualcomm is offering its mmWave Module separate to the Sub-6GHz, with both of them finding a new home inside of the Qualcomm SDX60 chip.
Qualcomm is offering up in the realms of up to 7.5Gbps download speeds, while upload speeds tap out at 3Gbps -- this is no better than the current Snapdragon X55 modem. Where the new Snapdragon X60 steps up to the plate is that it is built on the smaller, more efficient 5nm node -- hinting that its next-gen SoC will be built on the 5nm node -- something that should be unveiled at its annual Snapdragon Tech Summit in December 2020.
The new Snapdragon X60 modem can use both the mmWave and Sub-6GHz signals at the same time, and it can run the voice call you're on over the 5G signal -- a good move as eventually, many years from now when LTE networks are shut down.
So who is this new Snapdragon X60 modem aimed at? Apple. Yeah, Apple and the new iPhone 13.
We could see Apple step back into the Qualcomm fold, powering its next-gen iPhone 13 smartphone with the Snapdragon X60. Apple will have the iPhone 12 out this year, but the Snapdragon X60 won't be ready in time for the launch. I'll be keeping a very close eye on any movements here going forward.
Related Tags