Sharkoon DriveLink Hard Drive Interface
Sharkoon DriveLink Hard Drive Interface news post from TweakTown's online news computing and technology content pages.

Published Fri, Feb 2 2007 10:04 AM CST
|
Updated Tue, Nov 3 2020 12:39 PM CST
The folks at Sharkoon in Germany have just come out with a new product which allows you to connect up most recent IDE or SATA hard drives directly to your system via USB and nifty adapter.
I've personally had use such devices many times before when needing to move data from a desktop hard drive to my notebook.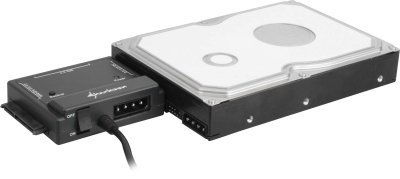 Sharkoon is presenting a simple solution for users who need quick access to the data on their de-installed hard drives, or who want to be able to alternate easily between several data mediums. The Sharkoon DriveLink lets users connect hard drives of all current formats directly to a PC or notebook without the trouble of having to first install them in an external HDD case. The external hard drive adapter offers an interface for both IDE and SATA drives in sizes 2.5", 3.5", and 5.25", and connects simply to a USB port to allow data access. The hard drive connected to the DriveLink is supplied with power by the included power adapter.

The Sharkoon DriveLink doesn't just provide a time-saving way to read out data, but also offers a convenient back-up function. Data can be saved and synchronized with the push of a button, and the back-up settings can be entered beforehand using the included software. So that the externally operated hard drive isn't left completely unprotected and users don't have to worry about accidentally damaging sensitive components, Sharkoon also delivers two sturdy silicon frames for 2.5" and 3.5" hard drives. The drives can simply be inserted into the handy cover, where they are securely protected against shocks and vibrations and easier to handle.

Under MS Windows ME/2000/XP the DriveLink functions with Plug&Play. Drivers for Windows 98SE are included in delivery.