Rick and Morty Season 4 Episode 5 teaser clip - Rick's space flat tire
Rick and Morty Season 4 Episode 5 has been teased, 'how the hell do you get a flat tire in space Rick?'

Published Sun, Dec 15 2019 7:34 AM CST
|
Updated Tue, Nov 3 2020 11:45 AM CST
Episode 5 for Rick and Morty season 4 releases today, and to increase hype levels just that much more, we have another teaser trailer to clip.
The above video has been posted onto the official Rick and Morty Twitter account, and from what is shown, we can piece together the last teaser clip with this one to enjoy one long clip. Earlier this week the Rick and Morty Twitter account posted a short clip of Morty getting bitten by a space snake, and it seems that the above teaser clip is the dialogue part that was cut out from it.
The clip begins with Morty telling Rick that he needs to pee, Rick then immediately declines Morty's need to relieve himself but instead suggests for him to swallow a centipede that makes him not have to go. Morty, of course, says no to swallowing a centipede, and just after Rick comments that Morty isn't the victim in the transaction, but the centipede is, the spacecraft gets a flat tire. Morty asks Rick "how the hell do you get a flat tire in space Rick?", Rick replies, "obviously from something sharp in space Morty". Then Rick reveals the secret flat tire experience he has programmed into his spacecraft.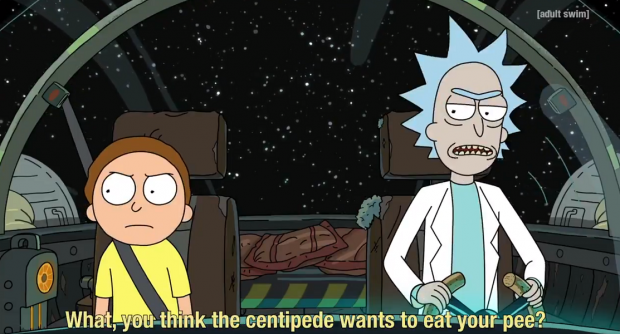 Related Tags