Rick and Morty Season 4 Episode 5 teaser - Morty versus Space Snake
Morty get bitten by a space snake in Rick and Morty season 4 episode 5, check out the teaser video here.

Published Tue, Dec 10 2019 7:48 PM CST
|
Updated Tue, Nov 3 2020 11:46 AM CST
The official teaser for Rick and Morty Season 4 Episode 5 has dropped, Rick tells Morty to get back in the car and for a good reason.
Right after Sunday's episode, Adult Swim is already teasing fans with episode 5, the last episode before the break for the holidays. In this episode it Rick gets a flat tire and needs to pull over into 'everything' and make some repairs. Morty decides he wants to explore and puts on a spacesuit and follows Rick out the craft, saying, "I'm not in danger, there's nothing out here".
Rick then corrects Morty's assumption and says, "Literally everything is out here, and unlike everywhere else I'm too busy to help you." A space snake then comes out of nowhere to bite Morty in the ankle, and Rick then demands he gets back into the car after reminding a confused Morty that there's "literally everything in space!." Even space snakes in suits. Rick and Morty Season 4 Episode 5 will be aired this Sunday at 11:30 pm.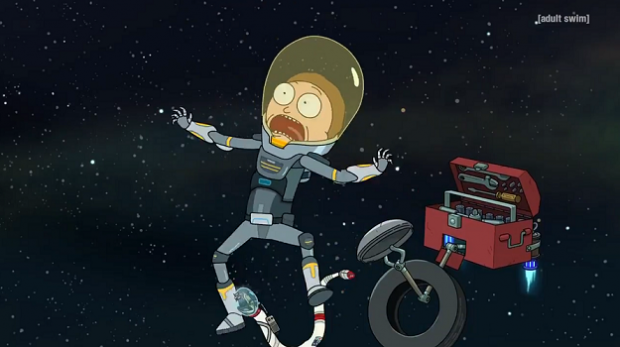 Related Tags