Rockstar Games' new medieval IP probably isn't real
Rumor has it Rockstar Games is making a new medieval IP with swordfighting, but something doesn't add up.

Published Nov 26, 2019 8:22 AM CST
|
Updated Tue, Nov 3 2020 11:46 AM CST
Rumor has it Rockstar's next game will be the fabled Project Medieval, a new IP that's set in the age of knights and bloody sworfights. But the details don't exactly add up.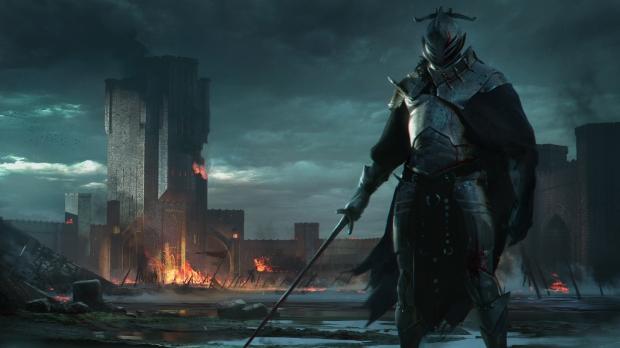 (Art credit: Denis Rybchak)
Rockstar's next game might not be Grand Theft Auto 6 or Bully 2, but a nifty-sounding romp similar to Kingdom Come: Deliverance. At least that's what new rumors would lead you to believe. The rumors circle around the now-edited LinkedIn page of Pawel Saxenas, a character artist for Rockstar Games' India branch, who lists a new IP on the page. The original non-edited page mentioned "medieval architectural style," but this was later removed.
But there's more to the story than meets the eye. The IP didn't start development at Rockstar India, but at Dhruva Interactive, which was then a subsidiary of the now-failing Starbreeze Studios.
Saxenas started at Dhruva on November 2016, which is around the time Starbreeze acquired a 90% majority share in Dhruva and subsumed the company. Saxenas said he worked on the new IP up until June 2018, indicating the project has been in dev for some time.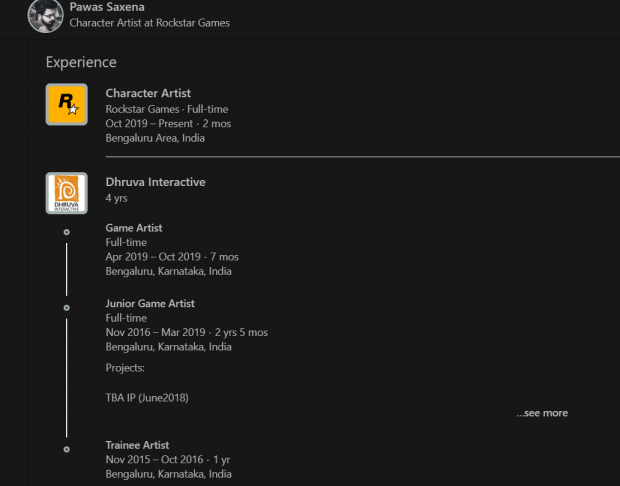 Following Starbreeze's financial woes, Rockstar bought majority shares of Dhruva from Starbreeze for $7.9 million in May 2019, almost a full year after Saxenas stopped working on the new IP. Dhruva was then absorbed into Rockstar India.
Given the timing, it's much more likely the new medieval IP was being developed for Starbreeze Studios, and not Rockstar Games India. Remember that Starbreeze had an eclectic mix of investments, from new games like Overkill's The Walking Dead to the now-defunct StarVR virtual reality headset. A Kingdom Come: Deliverance-type medieval IP could've been a part of that lineup.
Read Also: Rockstar ramps up hiring for next-gen games like GTA 6
It's also possible Starbreeze wasn't publishing the game. Starbreeze could've contracted Dhruva's talents out to another publisher like, say, 2K Games, who owns the IP rights.
If Dhruva was making the game for Starbreeze, Rockstar Games might own the IP itself now, but whether or not the game actually comes out is uncertain. And since Rockstar is a subsidiary of Take-Two Interactive, the IP could trade hands if Rockstar allowed it.
It's possible the medieval project will sit on a closet shelf for eternity. Remember, games are created and shelved all the time in the games industry--and more often than not they're canceled outright.
Then again, it's possible the medieval IP is still in development at 2K Games. Ex-Sledgehammer vet and Call of Duty dev Michael Condrey is now leading a new 2K Games studio in Silicon Valley on a brand new IP.
"We are the newest studio in the Take-Two Interactive family, founded in 2019 and located in the San Francisco Bay Area. Our first effort is to build a multiplayer and multiplatform AAA action game which will thrill a diverse community of gamers and have fun while doing it. We prize our creative autonomy as an independent studio, with both the financial and logistical support of 2K Games publishing," reads a studio job listing.
All this being said, indie studio Ruffian did confirm new Rockstar projects are in development. Ruffian is currently helping Rockstar develop these new games in a contractor capacity.
It's far, far more likely that Rockstar's next project will be Grand Theft Auto 6 for next-gen consoles, though. Rockstar parent company Take-Two recently teased a huge pipeline of new games, including sequels to some of its biggest franchises.
In the world of gaming, it doesn't get any bigger than Grand Theft Auto.
Related Tags