AMD Radeon RX 5500 will compete against NVIDIA GeForce GTX 1650
AMD Radeon RX 5500 with Navi 14 GPU aimed at the performance market.

Published Sun, Nov 10 2019 11:25 PM CST
|
Updated Tue, Nov 3 2020 11:46 AM CST
AMD will soon be launching its Navi 14-based Radeon RX 5500 series graphics cards, with more details arriving before its big launch.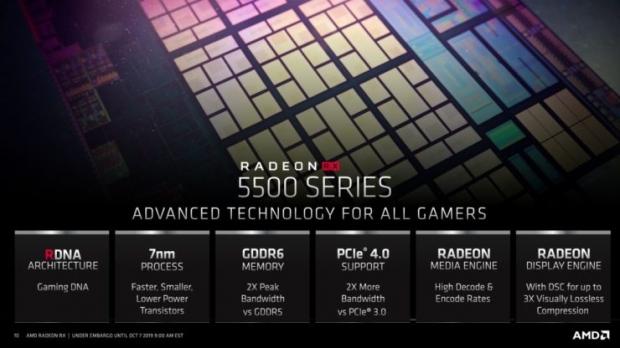 The official marketing material for AMD's upcoming Radeon RX 5500 series has surfaced, showing that the company has labeled it as a "Performance" card. AMD's new Radeon RX 5500 competes directly and easily beats NVIDIA's mid-range GeForce GTX 1650 graphics card.
Navi 14 will offer up 22 RDNA compute units for a total of 1408 stream processors, 4GB/8GB of GDDR6 memory on a 128-bit memory bus which will provide 224GB/sec memory bandwidth. AMD will clock the Navi 14 GPU at 1670MHz game clock, and up to 1845MHz boost clock.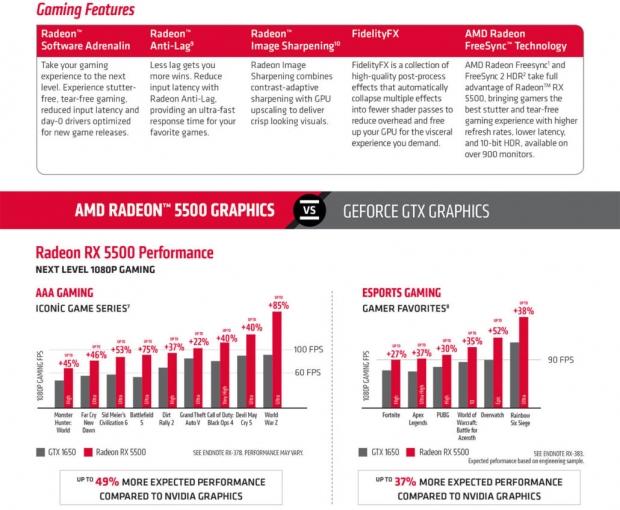 AMD compares its new Navi 14-based Radeon RX 5500 graphics card against NVIDIA's GeForce GTX 1650 in marketing material, with games like Far Cry New Dawn, Battlefield V, GTA V, and many more seeing an average of 49% more performance over the GTX 1650.
In super-popular esports games like Fortnite, Apex Legends, Overwatch and PUBG we're looking at an average of 37% more performance with the Radeon RX 5500 over the GTX 1650.
We should expect AMD to price the new Radeon RX 5500 at the $150 or so mark, but AMD also leaves a huge gap with Navi as there's nothing to compete against NVIDIA's Turing-based GeForce GTX 1660 series graphics cards... for now.
I'm sure we'll see a Radeon RX 5600 series soon enough.
Related Tags