Silicon Lottery has all-core 5.2GHz Core i9-9900KS chips for $1200
Cherry-picked Intel Core i9-9900KS will cost $1200 from Silicon Lottery.

Published Sun, Nov 3 2019 9:12 PM CST
|
Updated Tue, Nov 3 2020 11:46 AM CST
Oh, you thought Intel's new Core i9-9900KS cost $500 or so... well, it does -- but if you want a pre-tested Core i9-9900KS that is guaranteed to hit 5.2GHz on all cores... then Silicon Lottery has just that, for $1200.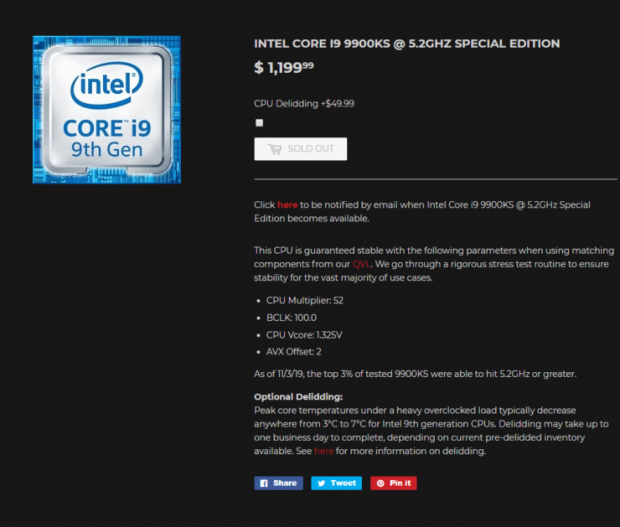 If you want the guaranteed 200MHz overclock on Intel's new Core i9-9900KS processor, then Silicon Lottery has a few of those golden samples that has maximum OC at all times. The regular Core i9-9900KS sits at a 4GHz base CPU clock, but Silicon Lottery offers 5GHz all-day (and all-night) long.
However, the regular 9900KS still hits 5GHz you just have to manually do it -- Silicon Lottery admits that "100% of the tested 9900KS" processors "were able to hit 5.0GHz or greater". However, Silicon Lottery has a bunch of golden sample chips that will be guaranteed to go from 5.0GHz to 5.1GHz (a 100MHz overclock) which costs $750. If you want all-day all-night at 5.2GHz, it's gonna cost you $1200.
The pre-binned Core i9-9900KS at 5.1GHz will cost $750 and represents 31% of the top 9900KS chips that Silicon Lottery tested, it has its voltage increased to 1.287V. Meanwhile the 9900KS at 5.2GHz costs $1200 and is in the top 3% of the top 9900KS chips tested, it's had its voltage cranked to 1.325V. Both the 9900KS chips at 5.1GHz and 5.2GHz each have an AVX Offset of 2.
Related Tags