NVIDIA CEO is #1 CEO, AMD CEO is #26 on HBR Top 100 CEOs
Harvard Business Review names NVIDIA CEO Jensen Huang the #1 CEO in the world for 2019.

Published Sun, Oct 27 2019 7:43 PM CDT
|
Updated Tue, Nov 3 2020 11:46 AM CST
NVIDIA and AMD have been releasing products one after the other for over 12 moths now with NVIDIA unleashing an entire stack of new Turing-based GeForce RTX and GeForce GTX graphics cards while AMD has been firing on all cylinders.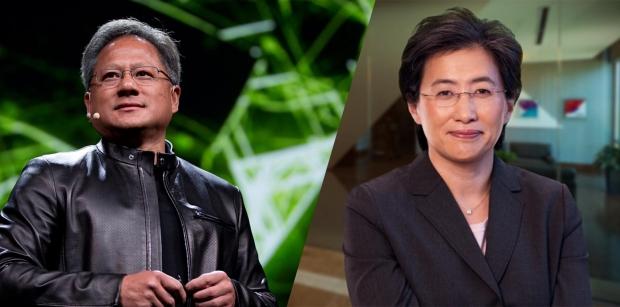 In the last 12 months AMD has released its next-gen Zen 2 CPU architecture and new Ryzen 3000 series processors, EPYC Rome server chips, and the soon-to-be-released Ryzen Threadripper 3000 series. AMD also returned to graphics cards with the new Navi GPU architecture and the two new Radeon RX 5700 series cards and the impending launch of the RX 5500 series family.
Now we have Harvard Business Review naming NVIDIA CEO Jensen Huang as the #1 CEO in the world for 2019, while AMD CEO Dr. Lisa Su ranks at #26. Huang was the #2 CEO for HBR in 2018, and #3 in 2017. He has been credited with the 14x increase in the price of NVIDIA share prices from 2015-2018 which is a gigantic achievement (even better for anyone who holds NVIDIA stock).
Harvard Business Review talked about Huang, where they said:
When Jensen Huang co-founded NVIDIA, in 1993, he focused on a single niche: building powerful computer chips to create graphics for fast-moving video games. As the company went public in 1999 and grew through the 2000s, video games remained its growth engine-but even back then, Huang, a Taiwanese immigrant who studied electrical engineering at Oregon State and Stanford, could see a different path forward. Data scientists were beginning to ask computers to perform much more sophisticated calculations more quickly, so NVIDIA began spending billions of dollars on R&D to create chips that would support artificial intelligence applications.
By the mid-2010s its AI-focused chips had come to dominate this nascent market, showing up inside autonomous vehicles, robots, drone aircraft, and dozens of other high-tech tools. One look at NVIDIA's stock chart shows how this bet has paid off: From late 2015 to late 2018, the company's stock grew 14-fold-a performance that puts Huang, 56, in the top spot on HBR's list of best-performing CEOs in the world this year.
AMD hasn't been sitting down with Lisa Su taking the company in a totally different direction in the last 5 years... and it's only just beginning really. The new Navi GPU will be out next year, as well as the Ryzen 4000 series (and new EPYC and Threadripper families of CPUs) while AMD will power the fastest consoles ever made in the next-gen Microsoft Xbox Scarlett and Sony PlayStation 5 consoles with custom silicon based on their Zen 2 and Navi technologies.
Related Tags