Microsoft DreamWalker: walk around in real-life, but a VR location
Microsoft's new DreamWalker VR tech sounds... AWESOME?!

Published Tue, Oct 22 2019 11:09 PM CDT
|
Updated Tue, Nov 3 2020 11:46 AM CST
Have you ever been walking to work, school, or just down the road and thought the real-world was too boring? Don't worry, Microsoft is working on something for that with project DreamWalker.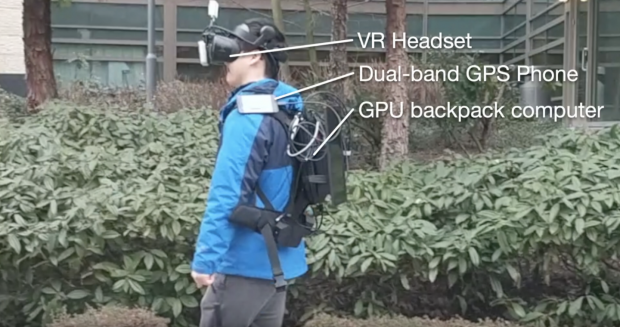 DreamWalker is a new project by researchers at Microsoft that sees users wearing a VR headset, as well as a backpack computer and a myriad of sensors. With the kit all installed onto your person, you can walk around in the real-world while viewing a totally different reality through a VR headset.
Don't worry about walking into something as there are a bunch of real-time sensing technologies in the DreamWalker VR system: the backpack PC, dual-band GPS sensor. two RGB depth cameras, and a "Windows Mixed Reality-provided relative position trace".

The environment you're walking in (the real-world) will be replaced by a virtual one through the VR headset you're wearing. You'll see arrows in the VR world showing you the direction to walk in.
The blog post on DreamWalker explains:"Discovered obstacles that may move or appear in users' paths are managed by introducing moving virtual obstacles, or characters, such as pedestrians walking near users, to block them from any potential danger. Other options for controlling users' paths may include pets and dynamic events such as vehicles being parked, moving carts, and more, limited only by the imagination of the experience creator".
DreamWalker uses a separate Microsoft technology called Mise-Unseen, which "allows covert changes to be made to a VR environment while a user's gaze and attention are fixed on something else" through eye-tracing technology.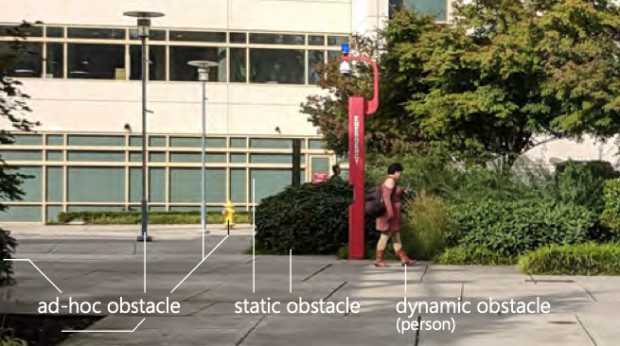 It's an interesting technology, something I'd love to see installed into (at least in my interests) a gaming arcade. I can imagine you and 10+ other friends all putting this on and blending the real-world arcade into the virtual world.
Think of a first-person shooter game, especially team-focused games but set in a totally different world. It's hard to re-create a zombie-infested world in the real-world in an arcade, but a basic (literally cardboard and metal structures) could be used and then overlay a beautiful, cinema-level world in VR.
Blending these together opens doors to an unlimited amount of use cases for DreamWalker, and while there are other companies working on similar technologies and experiences, this has the weight of Microsoft behind it.
Related Tags