Diablo 4 confirmed by artbook advertisement
Now there's even more evidence Diablo IV will be revealed at Blizzcon 2019.

Published Mon, Oct 21 2019 8:14 AM CDT
|
Updated Tue, Nov 3 2020 11:46 AM CST
Diablo IV has been outed by an artbook advertisement, confirming the game will be revealed soon.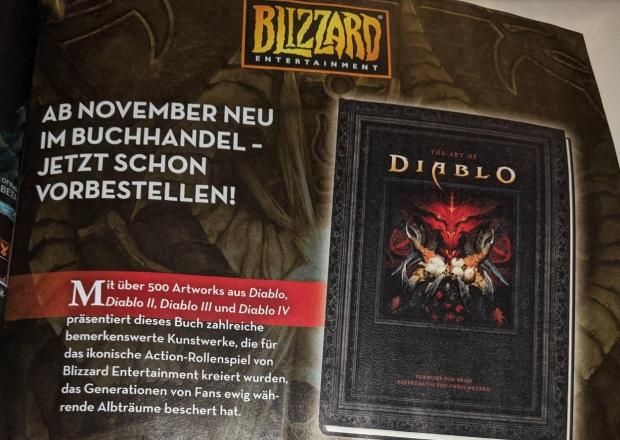 German games magazine GameStar stole Blizzard's thunder, confirming Diablo IV's existence in an advertisement ahead of its huge Blizzcon 2019 reveal. The ad itself is for a new hardcover Diablo artbook that's slated to release November 3, days after Blizzcon begins. "Featuring over 500 artworks from Diablo, Diablo II, Diablo III and Diablo IV, this book features many noteworthy artworks created for Blizzard Entertainment's iconic action role-playing game that has given generations of fans everlasting nightmares," GameStar magazine reads.
We've known Diablo IV has been in the works for a while now, so this isn't a surprise. Blizzard started hiring for the new game back in 2016, and sources tell Kotaku that Diablo IV has been rebooted at least once. The current version of Diablo IV is more grim, malevolent, and bloody than Diablo III.
Sources also say Blizzard will unveil Diablo II remastered at Blizzcon 2019 to keep gamers busy while they work on Diablo IV.
Blizzcon 2019 beings on November 1, 2019 at 12:30PM EST.
Here's what to expect with Diablo IV:
Darker and more brutal style, cartoonish visuals from Diablo III have been wiped

Traditional isometric aRPG

Aims to be a "modern Diablo II"

Microtransactions/some form of monetization, like cosmetic-only

No Real Money Auction House

Likely coming first to PC

Cross-play between consoles and PC

Won't release for a while
Related Tags