SpaceX and Tesla Motors CEO Elon Musk is 'cash poor'
Elon Musk is worth around $23 billion, but is CASH POOR.

Published Oct 24, 2019 9:11 PM CDT
|
Updated Tue, Nov 3 2020 11:46 AM CST
I don't know about you, but I'd trade positions with Elon Musk in a second. The owner of SpaceX and Tesla Motors has had some financial details revealed, through a defamation lawsuit against him.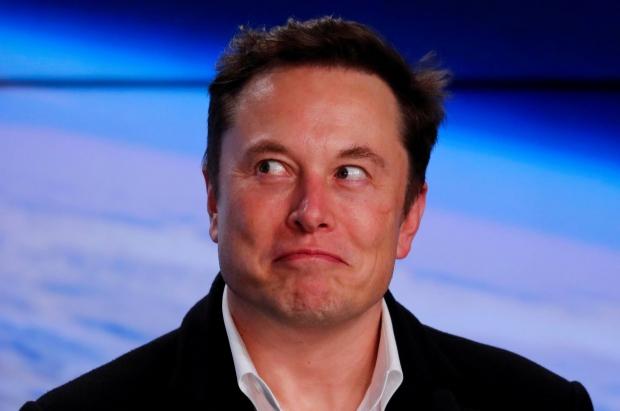 British diver Vernon Unsworth is suing Musk for defamation against him when the SpaceX and Tesla Motors CEO called him a "pedo guy" on Twitter in 2018. If you remember back in 2018, Unsworth was involved in the huge rescue of a young soccer team and their coach who was trapped in a cave in Thailand.
At the time, Musk sent a small submarine to Thailand to help in the efforts to save the kids and their coach. But Unsworth said the submarine would've been ineffective in the rescue, and was just a publicity stunt by Musk.
Unsworth said Musk and his companies "can stick his submarine where it hurts".
Then Musk tweeted out on July 15, 2018: "Water level was actually very low & still (not flowing) - you could literally have swum to Cave 5 with no gear, which is obv how the kids got in. If not true, then I challenge this dude to show final rescue video. Huge credit to pump & generator team. Unsung heroes here".
He followed up that tweet four hours later, saying: "You know what, don't bother showing the video. We will make one of the mini-sub/pod going all the way to Cave 5 no problemo. Sorry pedo guy, you really did ask for it".
Don't believe me? Check out the now-deleted tweets for yourself: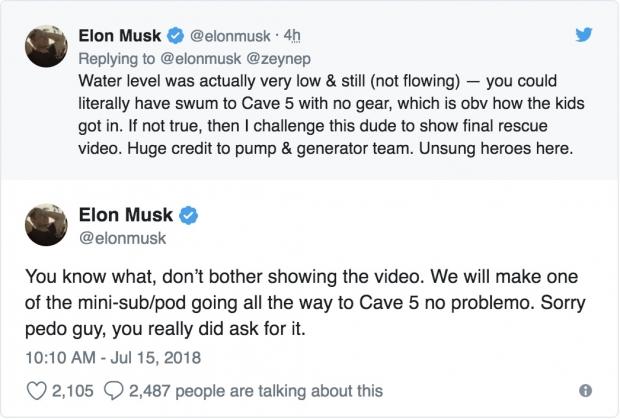 Even worse, is that he still continued -- tweeting a reply to @GossiTheDog who highlighted that Musk called Unsworth "pedo guy". Musk reply tweeted: "Bet ya a signed dollar it's true". Again... don't believe me? Check out the tweet below: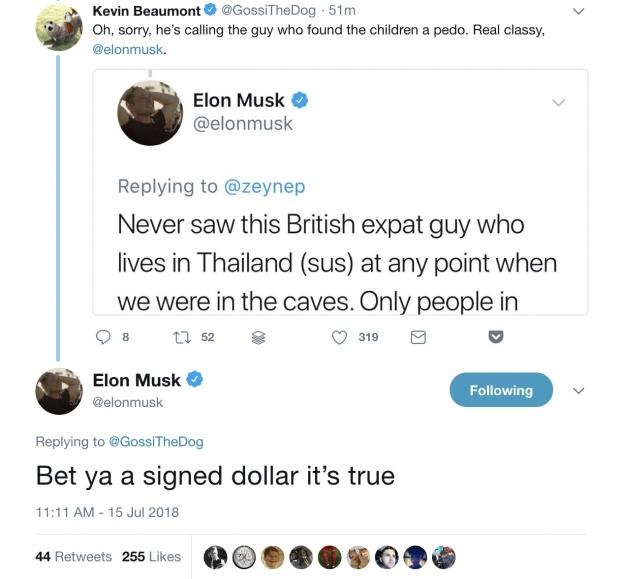 A new filing from Unsworth's attorney referred to "Musk's sworn testimony that he is financially illiquid". Musk is worth somewhere around $23.6 billion, but he is still cash poor as most of his wealth is tied up in SpaceX and Tesla stock. Musk has around $14.6 billion in shares of SpaceX, while he owns around $8.8 billion in shares of Tesla.
Alex Spiro, an attorney for Musk, spoke with Business Insider, saying: "Mr Musk clarified that much of his net worth is committed to his companies. Of course Mr Unsworth's lawyers are focused on this, since the entire case is nothing but a money-grab".
Musk even uses burner phones like you would expect from someone like Walter White in Breaking Bad, with the lawsuit digging that up, too.
In a statement that the court dated from October 1, a SpaceX employee said: "For security purposes, Mr. Musk regularly changes his cellular device, at which time his old device is imaged, wiped clean, and stored or destroyed".
Musk's lawyer hit back, telling Business Insider: "Mr. Musk updates his phone (like lots of other people) and Mr. Musk occasionally has to change his phone for reasons that have to do with security and sensitive information".
Related Tags