Fallout 76's ambitious new Wastelanders update has been delayed to Q1 2020, Bethesda today announced.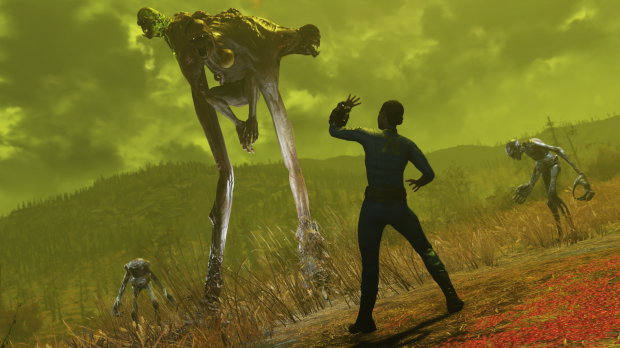 Fallout 76 is still trucking along thanks to big new free expansions and updates, but the biggest one to date has been pushed back. Dubbed Wastelanders, the update will add human NPCs to the world and transform it into an actual Fallout game. Wastelanders brings a bunch of new characters that offer quests, fight alongside you, and even break up into factions that you can ally with or clash against.
"We've been working on our biggest update yet. It's called Wastelanders, and it'll fundamentally change the game. This is a long term story we're telling. Year One was about the Vault doors opening and all of you settling the wasteland."
"Year Two is about people coming back to reclaim it. Like previous Fallout games, these characters have their own stories and goals. It's up to you to choose how to interact with them and live with those consequences," co-studio director Tom Mustaine said at E3 2019.
Now Bethesda says Wastelanders might be the biggest expansion they've ever done. The update will bring new monsters, new items, human NPCs with dialog trees and quest lines and actual personality, and from the looks of it, new regions to explore.
We've been hard at work on Fallout 76 this year, including our biggest free update yet, Wastelanders. We're excited about how Wastelanders is coming together but it's going to need more time to be the best, most polished update it can be, so we are delaying its release to Q1 next year.

We've continued to re-evaluate and change our processes to make sure the work we're doing hits our quality bar, and yours. We apologize for this delay but know it will be worth the extra time.

Wastelanders is turning out to be one of the largest expansions we've ever done, and it changes the entire world with human NPCs returning.
Fallout 76's big Wastelanders update will be out sometime in Q1 2020, which could be from January to March.