Blizzard bans more Hearthstone players for 'free Hong Kong' signs
Activision-Blizzard is digging a hole for itself so large, it will eventually dig its way to China.

Published Oct 16, 2019 7:47 PM CDT
|
Updated Tue, Nov 3 2020 11:46 AM CST
I don't know how things could get worse for Activision-Blizzard, where the drama all started when the World of Warcraft, Diablo, and Overwatch developer banned Ng "Blitzchung" Wai Chung from Hearthstone, forcing him to forfeit his winnings from the Hearthstone tournament.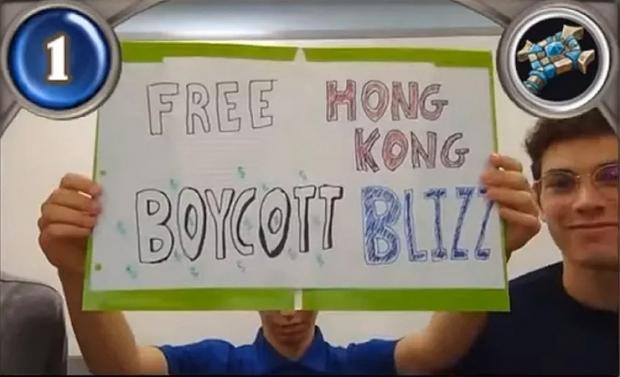 Blizzard slowly backed away from this and lessened his ban and gave back his prize money, while handing out 1000-year bans on its forums for anyone speaking up about Hong Kong. But then the developer cancelled the huge Overwatch for the Nintendo Switch launch event at NintendoNYC, and now... well now... they're back again by handing out 3 new suspensions to American University Hearthstone players over holding up a sign during a livestream that said "Free Hong Kong, Boycott Blizz".
Obviously the Hearthstone players knew this was going to land them in hot water, with the players quitting the team after the protest. This didn't happen overnight, but rather it took place over a week ago and only saw Blizzard bring the ban hammer down recently.
During the stream, team members Casey Chambers, Corwin Dark, and TJammer held up the sign with Casey Chambers taking to Twitter to announce: "Happy to announce the AU Hearthstone team received a six month ban from competition. While delayed I appreciate all players being treated equally and no one being above the rules".
Blizzard responded to the incident on the official Hearthstone website, saying: "During week 4 of the Fall 2019 Hearthstone Collegiate Championships, players GiantDwarf, TJammer and Xcelsior were in violation of section 7.1.B of the Hearthstone Collegiate Championship rules for engaging in behavior disruptive to the official esports broadcast. The players are disqualified from the ongoing tournament and will be ineligible to participate in Hearthstone esports for 6 months, beginning from October 8th, 2019 and extending to April 8th, 2020. Following the 6 months suspension, the players may, at their discretion, continue to participate in Hearthstone esports".
So now we know... speak up about Hong Kong and you'll receive a 6-month (or worse) ban from Activision-Blizzard.
With just a few weeks until BlizzCon 2019... what do you think will happen? Will Blizzard do what they did with the Overwatch on the Nintendo Switch launch event and pull the plug at the last minute? I really think they will. There's no way they can go ahead with the event, knowing that there will be millions of eyes on the event and the chance for gamers to protest mid-game or mid-event? Wowzers.
Related Tags