PCI Express 6.0 spec reaches rev 0.3, final due in 2021, up to 256GB/s
PCI-SIG says PCIe 6.0 spec is on track for finalizing in 2021 - up to 256GB/s bidirectional bandwidth for an x16 slot.

Published Tue, Oct 15 2019 5:35 PM CDT
|
Updated Tue, Nov 3 2020 11:46 AM CST
While it is still a while before we would ever see this on a consumer-level system, it is worth noting that PCI-SIG has announced PCIe 6.0 is already at Rev 0.3.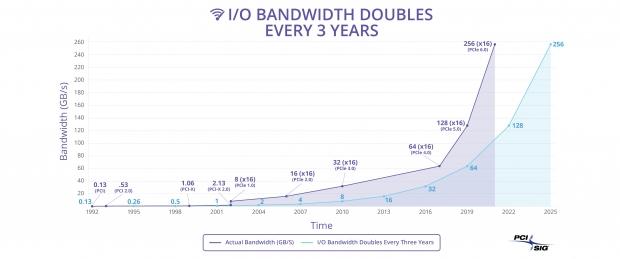 PCIe 4.0 is just now showing its face on consumer-based systems, and that is after a very long runway for PCIe 3.0 spec. PCI-SIG wants to avoid the kind of long delay like we saw with PCIe 3.0 to 4.0. Many of you may ask why, as modern gaming systems barely can see a benefit from PCIe 4.0 as it is. Well, PCIe, which works excellent for GPUs and now SSD's interface, is used for far more bandwidth-intensive systems such as HPC clusters or large supercomputers. This is where the new spec will be the most needed.
The 6.0 spec should be complete by 2021, according to PCI-SIG, as long as everything goes well. But that does not mean that consumer boards will suddenly be at PCIe 6.0, this all takes time. Sometimes generations of products are needed to get I/O hubs sorted and interfaces laid out to support not just the speed but signal integrity concerns.
The PCIe 6.0 spec would double over the already completed 5.0 spec with a bidirectional bandwidth of 256GB/s or 128GB/s per direction. This could make for some exciting new SSD's and even GPUs depending on how the tech scales. PCIe 6.0 x4 interface, for example, would enable a theoretical 32GB/s for an M.2 x4 device. This is compared to existing PCIe 3.0, which tops out at 4GB/s and 4.0, which tops out at 8GB/s. Yes, that is correct, a PCIe 6.0 x1 could theoretically possess the same bandwidth as a PCIe 3.0 x4 interface.
This is a small peek into the future of insane performance, now comes the question of when will GPUs be powerful enough to need PCIe 6.0?
Related Tags