It's an all-out detail war in the last few days when it comes to Sony's next-gen PlayStation 5, where Sony have officially confirmed it as the PlayStation 5 -- we now know it'll rock an 8C/16T chip from AMD, and now we're hearing about the next-gen PlayStation VR 2 headset.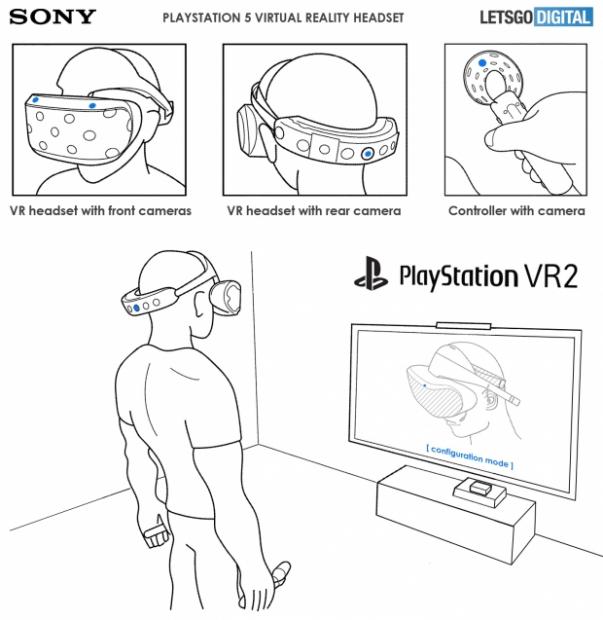 The folks at LetsGoDigital don't seem to sleep, posting up details on the new PSVR 2 headset reporting that it will come with built-in cameras and even a transparent mode, something that is very, very interesting. This new patent is right in line with my previous report from July 2019, with the rumored wireless mode, head and eye-tracing technology, and more.
When it comes to the cameras, we're looking at what appears to be dual front-facing cameras and a single (and I'm sure wide angle) camera on the back. The new PSVR 2 controller will even come with a camera, with it all detailed in a recently-published patent that was approved, and published on October 3, 2019.
The patent in question has the PSVR 2 headset looking virtually identical to the first-gen PSVR, but that could be for patent purposes. The final design might be different, but the inclusion of cameras on the front, and back of the PSVR 2 headset (and on the controller) is all new.
Sony's current-gen PSVR headset includes a PlayStation Camera in the box, and uses the 9 LED lights that are on the PSVR to workout where you are in the room, and translate that into the VR world. This new headset would totally solve that, and provide much better information from the PSVR 2 to your new PS5 console in the world of VR.
Finally, the new PSVR 2 headset might even be wireless -- with a built-in battery that would give you hours of free-roaming VR game time. This would be an interesting flex for Sony, and enable the big next-gen console VR fight that seems to have Microsoft gearing up with its own Xbox Scarlett VR headset.
Time will tell, but I couldn't be more excited.