Back in black, Noctua takes consumer feedback and goes stealth mode
Noctua bucks the styling trend, extending its Chromax lineup with blacked-out stealth mode coolers.

Published Tue, Oct 8 2019 5:15 PM CDT
|
Updated Tue, Nov 3 2020 11:46 AM CST
Noctua, known for its excellent performance and quiet cooling solutions, today announced that the Chromax series will now be joined by blacked-out coolers as well. The models receiving the blacked-out treatment are the ever-popular NH-D15, the NH-U12S, and the NH-L9i.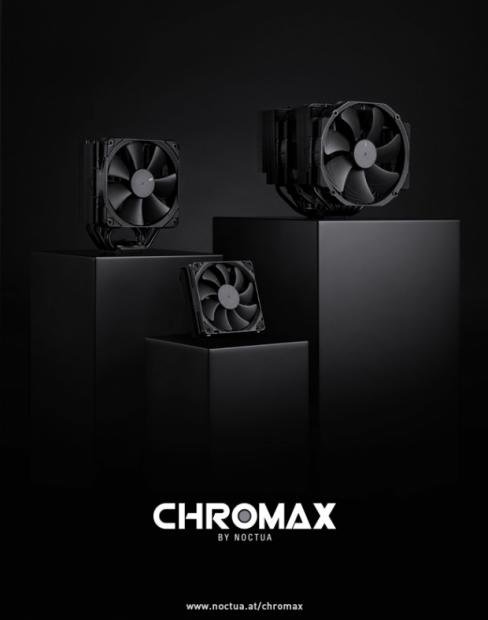 Enthusiasts have long lambasted Noctua for having amazing coolers with a color choice they simply could not get behind. We ourselves have tested several Noctua coolers, and they regularly find themselves at the top of many charts, but styling, it's simply hard to justify brown and tan or whatever they want to call the original color scheme when very few if any components outside of Noctuas ecosystem are even offered in that color scheme.
I think I can speak for many enthusiasts when I say this is a welcome change and a sign that Noctua as a brand is genuinely listening to their customer base. Evidence of this can be found in the quote from the CEO Roland Mossig:
Our customers have been asking us for all-black coolers for a long time, but we're soldering the fins to the heat pipes in order to guarantee optimal performance over many years of usage, and this production process is difficult to combine with coatings.

It took a lot of time and engineering work to find an appropriate coating material and production process that gave us satisfactory thermal performance and consistent visual appearance. Now, we're proud with the end result and confident that the new chromax.black coolers will meet the high standards Noctua users have come to expect.
Suggested retail prices
NH-D15 chromax.black.swap: EUR 99.90 / USD 99.90

NH-U12S chromax.black.swap: EUR 69.90 / USD 69.90

NH-L9i chromax.black.swap: EUR 49.90 / USD 49.90

NA-SAVP3 chromax.black: EUR 6.90 / USD 6.90

NA-SAVP3 chromax.blue: EUR 6.90 / USD 6.90

NA-SAVP3 chromax.green: EUR 6.90 / USD 6.90

NA-SAVP3 chromax.red: EUR 6.90 / USD 6.90

NA-SAVP3 chromax.white: EUR 6.90 / USD 6.90

NA-SAVP3 chromax.yellow: EUR 6.90 / USD 6.90
Related Tags