Doom Eternal has been delayed from its original November launch to March 2020, id Software today announced.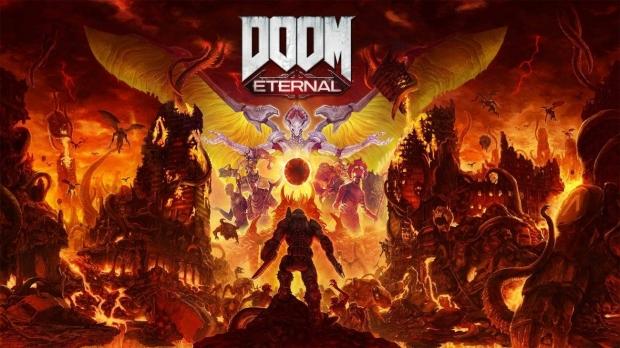 id confirms Doom Eternal has been delayed to March 20, 2020 on PS4, Xbox One and PC. The Switch version doesn't yet have a targeted release date, but it'll launch after other systems. The studio says the four-month delay will ensure higher quality and polish for the game on all platforms. id is offering Doom 64 free as a consolation, but only if you pre-order Doom Eternal.
"Throughout the development of DOOM Eternal, our goal has been to deliver a game that exceeds your greatest expectations across the board," id said in a statement.
"To make sure we're delivering the best experience -- for DOOM Eternal to live up to our standards of speed and polish -- we've made the decision to extend our launch date by a few months to March 20, 2020. We know many fans will be disappointed by this delay, but we are confident that DOOM Eternal will deliver a gaming experience that is worth the wait."
Doom Eternal's delay actually makes sense.
Not only is it the biggest Doom game yet, it's made some big changes to gameplay by putting engagement at the forefront. As a result, the game has become a huge replayable and grindy shooter with RPG elements that fits into Bethesda's new focus on long-winded titles.
We've analyzed Doom Eternal from the start, and the way id talks about the project makes us think of a singleplayer title with live game sentiments (farming for runes/collecting materials, huge open areas with lots of exploration, customization options, etc).
Eternal even features a highly layered combat system with its own meta structure; players will have to constantly adapt to using certain guns against certain enemies, creating a more dynamic and intricate system that ties with the other engagement elements.
Everything tells us Doom Eternal is not only a sequel, but the framework for Doom's continued legacy. It's the setup for more games and we expect the entire Doom franchise follow this path of replayable mechanics, live-based gameplay, and more intuitive advances on multiplayer.
Doom Eternal now releases on March 20, 2020 on PlayStation 4, Xbox One, and PC. The Switch version will come sometime after.
Check below for more info about the game:
GAME DESCRIPTION:

Developed by id Software, DOOM Eternal is the direct sequel to DOOM, winner of The Game Awards' Best Action Game of 2016. Experience the ultimate combination of speed and power as you rip-and-tear your way across dimensions with the next leap in push-forward, first-person combat. Powered by idTech 7 and set to an all-new pulse-pounding soundtrack composed by Mick Gordon, DOOM Eternal puts you in control of the unstoppable DOOM Slayer as you blow apart new and classic demons with powerful weapons in unbelievable and never-before-seen worlds.

As the DOOM Slayer, you return to find Earth has suffered a demonic invasion. Raze Hell and discover the Slayer's origins and his enduring mission to rip and tear...until it is done.

FEATURES:

Slayer Threat Level at Maximum

Gain access to the latest demon-killing tech with the DOOM Slayer's advanced Praetor Suit, including a shoulder-mounted flamethrower and the retractable wrist-mounted DOOM Blade. Upgraded guns and mods, such as the Super Shotgun's new distance-closing Meat Hook attachment, and abilities like the Double Dash make you faster, stronger, and more versatile than ever.

Unholy Trinity

You can't kill demons when you're dead, and you can't stay alive without resources. Take what you need from your enemies: Glory kill for extra health, incinerate for armor, and chainsaw demons to stock up on ammo. These tools are the key to your survival and becoming the ultimate demon-slayer.

A New Class of (Destructible) Demon

Obliterate more demons than ever before, each with unique attacks and abilities. Fan-favorite classics such as the Pain Elemental, Archvile, and Arachnotron make their return, while a horde of totally-new demons join the roster including the DOOM Hunter, Marauder, and the Gladiator. Rip apart your favorite demons to the core with DOOM Eternal's "destructible demons" system and take your power fantasy to new levels.

Demonic Invasion Detected

As the Slayer, allow other players to invade your campaign as demons for a dramatic and unpredictable twist anytime you're playing the campaign. Or be a demon and invade other players' campaigns either by yourself or with someone else to give the Slayer a true taste of Hell.

Enter BATTLEMODE

BATTLEMODE is the new 2 versus 1 multiplayer experience built from the ground up at id Software. A fully-armed DOOM Slayer faces off against two player-controlled demons, duking it out over three rounds of intense first-person combat. More details coming soon!