Every singleplayer Fallout game is getting packed into a collection on PC and sold in stores. But it won't be available in North America and other regions.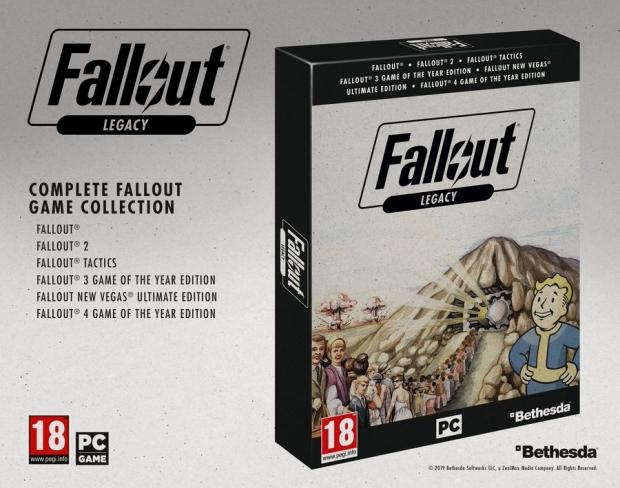 The leaked Fallout Legacy Collection Amazon listing is real. Bethesda confirmed the bundle is coming, but it's exclusive to the United Kingdom and Germany. Not only does the legacy collection include Fallout 1, Fallout 2, Fallout 3, New Vegas, and Fallout 4 in the same set, but DLC from every game too.
This is absolutely bizarre as Bethesda would make a killing by bringing this to North America, but it's possible the pack will be sold digitally on Bethesda.net at some point for these regions. It's a strange tactical move from a publisher that's been making odd business decisions as of late, like infusing all its games with unnecessary live services and over-monetizing Fallout 76.
Of course Bethesda wants us to buy each game separately for full MSRP. But the entire reason the collection exists is to take eyes off of Obsidian's new Fallout New Vegas-in-space-like RPG The Outer Worlds--it's no coincidence the Fallout Legacy Collection releases the same day as Obsidian's latest game.
The Fallout Legacy Collection will be out October 25, 2019 on PC, but only in Germany and the United Kingdom.