Interstellar-like black hole devours star in rare cosmic collision
Gargantua-like black hole has consumed a neighboring star in an epic cosmic collision.

Published Mon, Sep 30 2019 3:07 AM CDT
|
Updated Tue, Nov 3 2020 11:47 AM CST
Firstly, rest-in-peace star ASASSN-19bt. Now that the sentiments are over, NASA has recently caught a cosmic crime in the act as a black hole some 375 million light-years away has eaten a fellow star.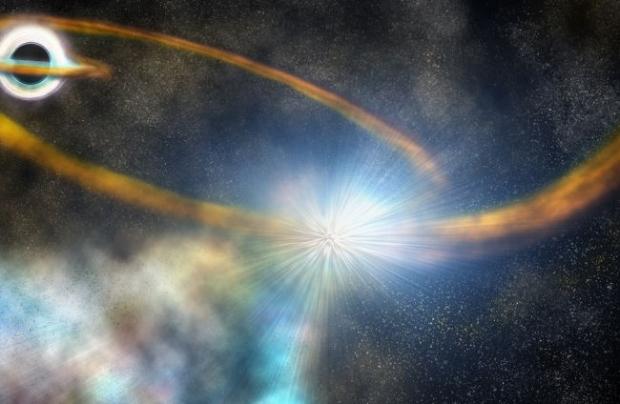 The star was known as ASASSN-19bt and was observed by NASA's Transiting Exoplanet Survey Satellite, or TESS for short. The satellite provided scientists and researchers a viewing at what happens when a star is torn apart by a black holes extreme gravitational pull. This cosmic level collision is labelled as a tidal disruption event or TDE, which is when a black hole begins the process of tearing the gas from the star before it eventually forms into an accretion disk.
Astronomer Thomas Holoien said "Only a handful of TDEs have been discovered before they reached peak brightness, and this one was found just a few days after it started to brighten." He continued and said "This makes ASASSN-19bt the new poster child for TDE research. Having so much data about ASASSN-19bt will allow us to improve our understanding of the physics at work when a star is unlucky enough to meet a black hole."
If you would like to see a video representation of what happens when a star meets a black hole, head on over to this link here. NASA's TESS space satellite was originally launched back in April in 2018 to search for alien planets, and so far it has discovered 24 exoplanets and 993 possible candidate worlds.
Related Tags