AMD EPYC 7H12: 64C/128T at 280W TDP for liquid-cooled servers
AMD announces the fastest EPYC chip yet -- EPYC 7H12 designed specifically for liquid-cooled servers.

Published Sun, Sep 22 2019 6:49 PM CDT
|
Updated Tue, Nov 3 2020 11:47 AM CST
AMD has just announced the latest and fastest-ever EPYC processor yet, the new EPYC 7H12 -- which beats out the previous flagship EPYC 7742 processor. The new continues to fill out the game-changing EPYC Rome CPU family.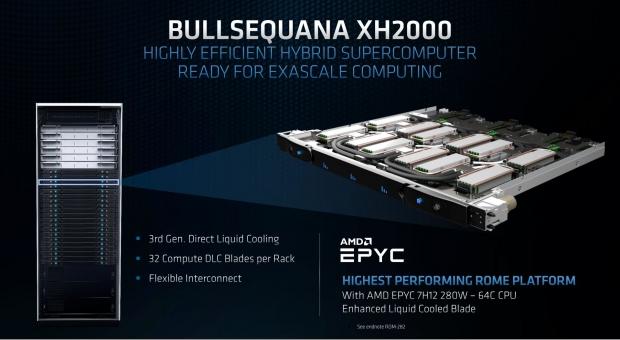 The new EPYC 7H12 has been designed specifically for liquid-cooled servers and still maintains its industry-leading 64C/128T of CPU grunt, with 256MB of L3 cache, and 128 PCIe 4.0 lanes.
The big difference here with the new EPYC 7H12 is that it has a base CPU clock of 2.6GHz (the highest on any EPYC processor) and a boost CPU clock of 3.3GHz -- 100MHz short of the EPYC 7742. Power wise it is a much bigger beast, as it'll chew down a 280W TDP compared to the 225W TDP on the EPYC 7742.
But, AMD says that the new EPYC 7H12 will have 11% more overall performance than the EPYC 7742 when it comes to the Linpack benchmark, and it'll also cost you another liver or two. AMD's current flagship EPYC 7742 processor costs $6950, so expect the new EPYC 7H12 to come somewhere in the $9000 to $10,000 mark.
AMD's new EPYC 7H12 processor already has a customer -- in the new Bullsequana XH2000 supercomputer, which rocks the new 64-core processors.
Related Tags